Software Release Notes Skydio 2 Enterprise
September 28, 2021
| | |
| --- | --- |
| Skydio 2 drone software version: | 15.10.17 |
| Skydio Enterprise Controller software version: | 15.10.5 |
| Enterprise App - Android: | 15.10.5 |
| Enterprise App - IOS: | 15.10.6 |
For additional information read:
Access Skydio 2 Enterprise Manuals and Guides
Getting Started on Skydio Cloud
Skydio Autonomy
New (Core features for enterprise)
Indoor Height Ceiling
When flying indoors without GPS, Skydio will prevent you from flying above 66 feet (20 meters). With this update, we've added the option to disable this Indoor Height Ceiling. If you choose to disable your indoor height ceiling, make sure your drone stays within 66 ft of surfaces to ensure robust visual navigation.
By default the Indoor Height Ceiling is enabled; disabling the Indoor Height Ceiling setting does not persist across flights or power cycles.
Memory Card Overwrite
Skydio has made it easier for you to manage your media storage space by automatically deleting old media to ensure that you can always start a new flight without waiting. Toggle this setting on to automatically delete the oldest media stored on the SD memory card. This setting will persist across flights and power cycles.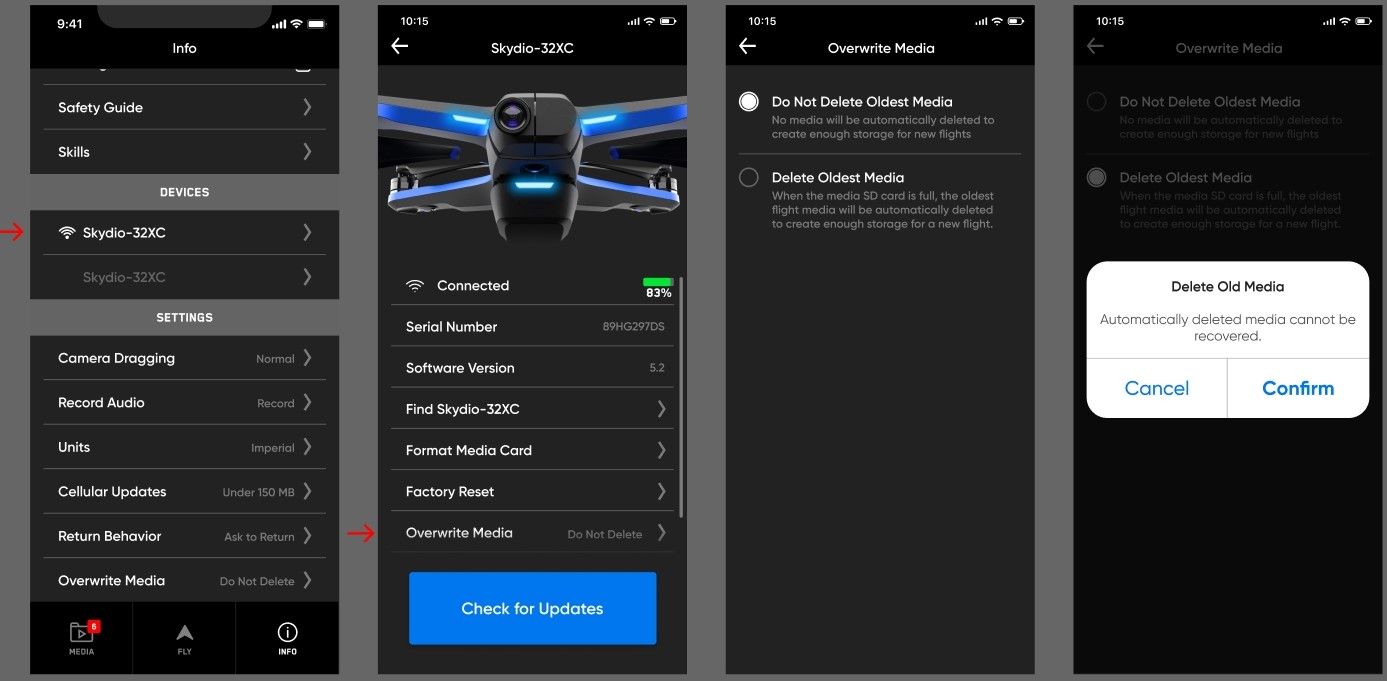 View Last Flights
The View Last Flights feature is designed to assist you with locating your drone in the event of a crash, emergency landing, or low battery landing in an unintended location. Review video of the 10 most recent flights even if your phone or controller is not connected to your drone.
Map Coordinates
When viewing your maps, creating waypoint missions, or orbiting a point of interest, you now have the option to view latitude and longitude coordinates. The position of Skydio 2, the Controller, Home Point, and Fly Here Now will display coordinates on the map in real-time. Disable this setting if you do not want coordinates displayed. Your selection will persist across flights and power cycles.
Find Drone
If the Map Coordinate setting is enabled, the coordinates of the current or last known location are displayed, making it easier for you to locate your lost drone.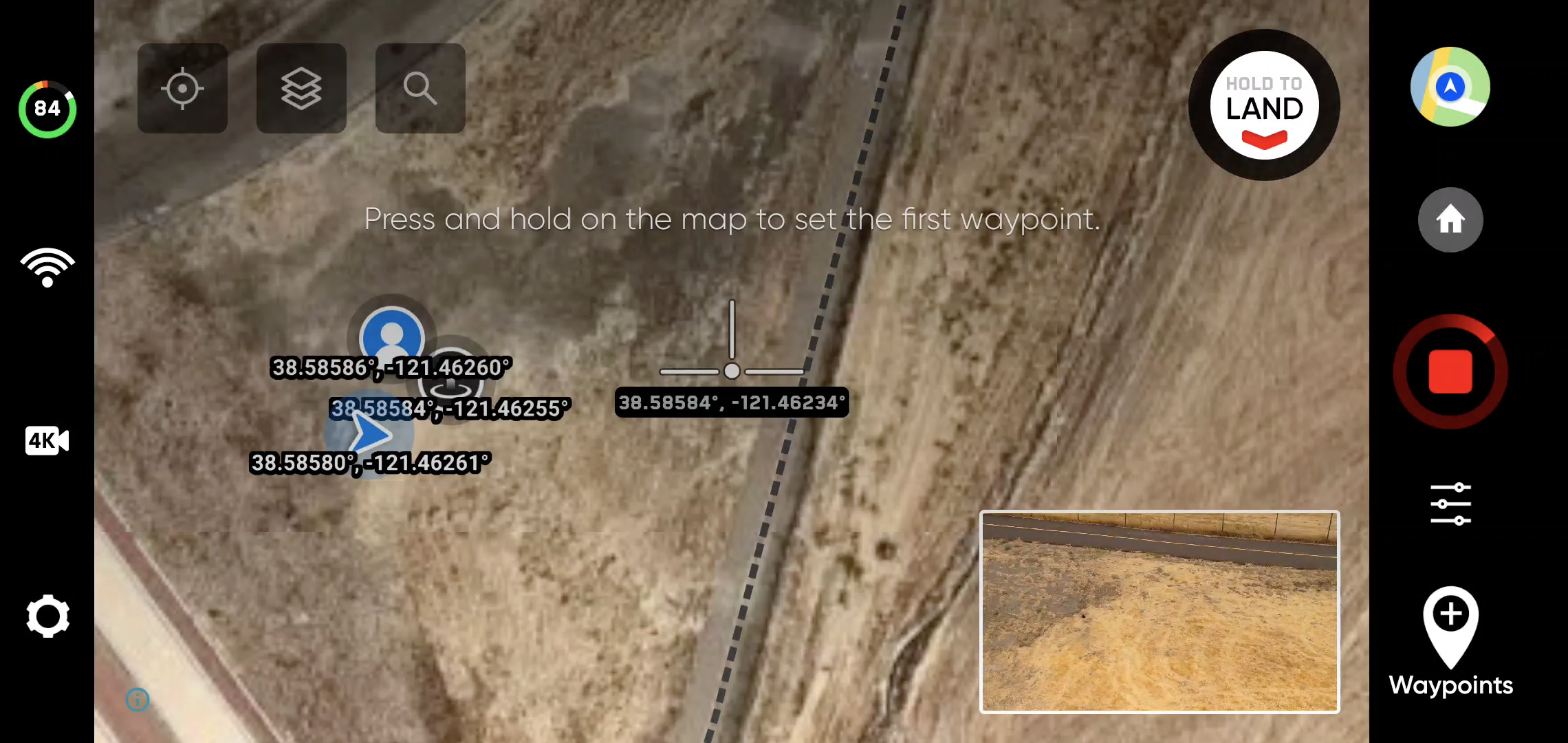 Anti-flicker
You now have the ability to adjust anti-flicker settings if you experience flickering in your video. This setting is for users located outside of North America, in countries where the frequency of the alternating current in household electrical outlets is 50 Hz.
60 Hz (default) - North America
50 Hz - Australia and New Zealand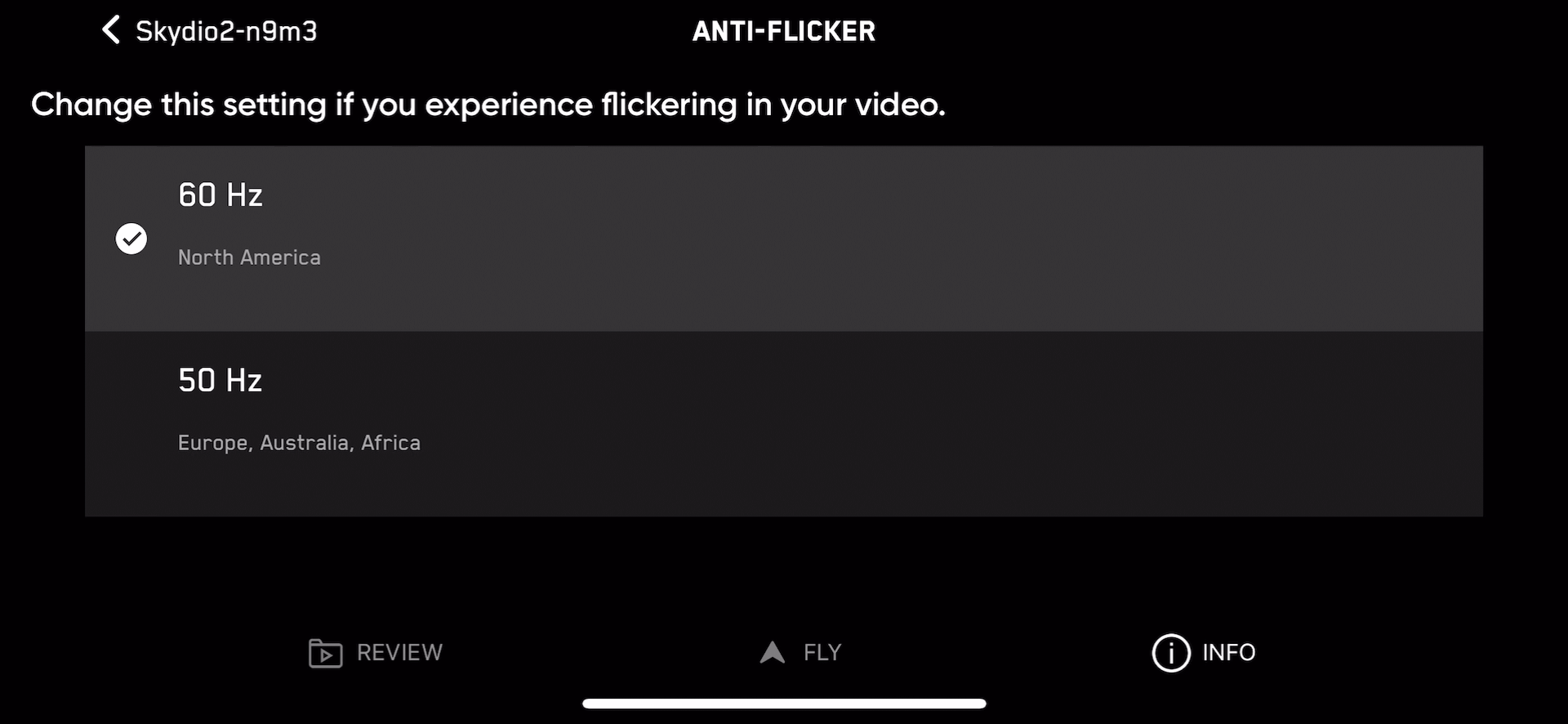 Lost Connection Return Behaviors
Choose how your want your drone to behave if the signal to your controlling device is lost:
Wait Before Return - Specify the amount of time that you want Skydio 2 to wait before it initiates a return flight, allowing time to reconnect.
Land Once Returned - ****When enabled, Skydio 2 will return, hover for a specified amount of time, and then land.
Wait Before Land - Specify the amount of time between 0 to 300 seconds (the default is ****240 seconds) that you want Skydio 2 to wait before landing. This setting is only enabled when Land Once Return is toggled on.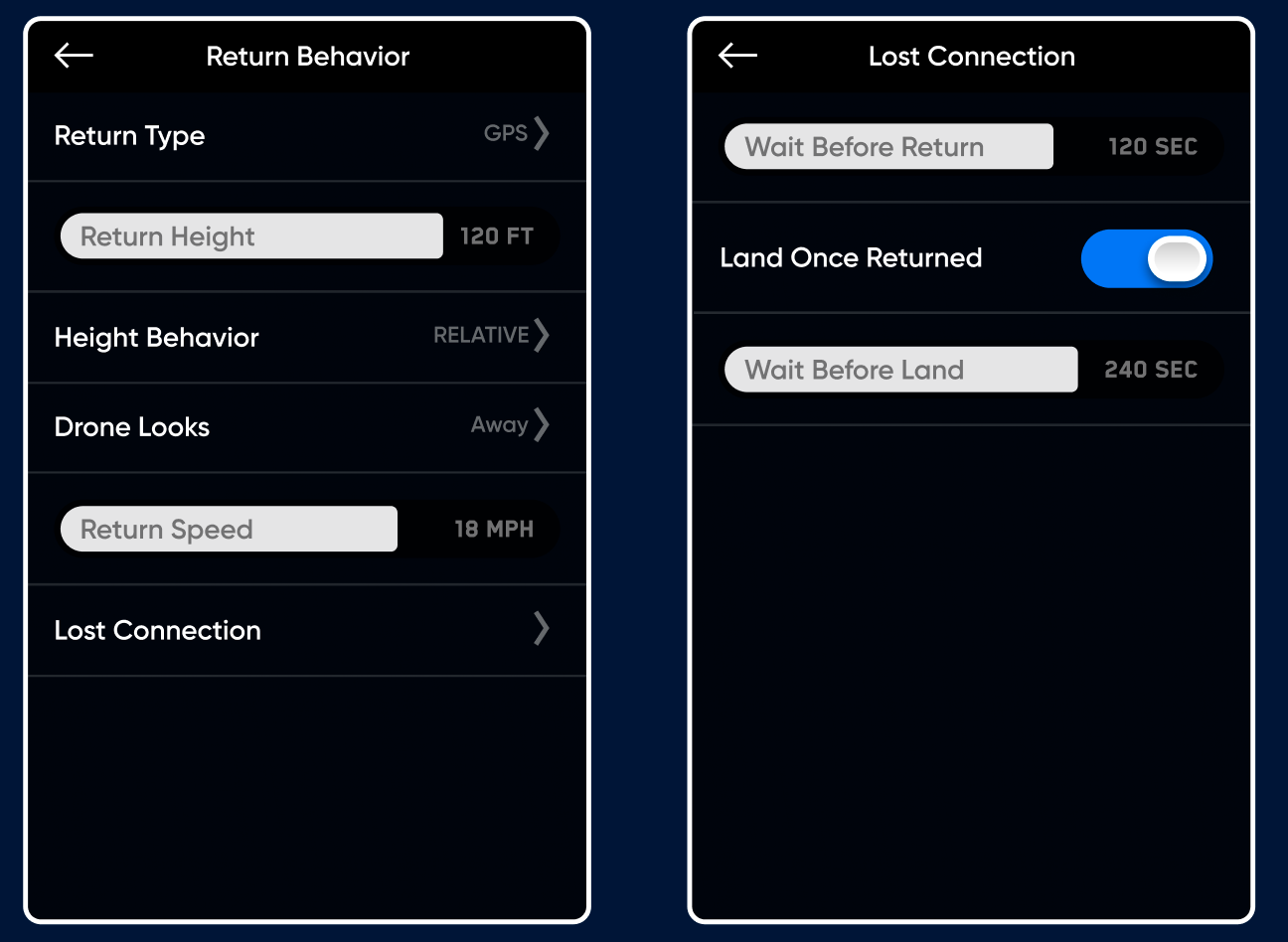 Enable Narrow Band
Enable Narrow Band to provide an additional wireless range
extends controller range in open environments
when enabled, the drone will switch to narrow band whenever applicable
the video quality may suffer slightly
| | |
| --- | --- |
| | NOTE: This setting is only available while connected to the controller or Beacon |
Enhancements (Core features for enterprise)
Lights
Toggle the RGB navigation lights off and they will now stay off from the moment you power on your Skydio 2 and throughout your flight. The setting will persist through flights and power cycles.
NOTE: Battery lights will stay on until flight, at which point they will turn off.
Fixes (Core features for enterprise)
Improved zoom tracking for better case landings
Media will display immediately after landing
Return to Home joystick issues solved
Skydio 3D Scan (Requires license purchase)
Skydio 3D Scan™, adaptive scanning software available for purchase to use with the Skydio 2 Enterprise app, is now available on Android 9.0 or higher. 2D GPS Capture, a new 3D Scan capture mode, offers you the ability to preplan your flight using a top-down map view.
For more information about what's new with 3D Scan, visit our Skydio 3D Scan Release Notes.
Explore More
Explore related articles for additional information
Version 14.3 - June 2, 2021
Skydio is proud to announce exciting new features in our software release Version 14.3 including advanced autonomy and AI processes optimized for increased situational awareness and detailed industrial asset inspection now available for Skydio 2 Enterprise with the purchase of Skydio Autonomy Enterprise Foundation and 3D Scan software. Skydio 2 Enterprise Application offers seamless operation of new and enhanced autonomous flight skills, automated workflows, and robust imaging.
| | |
| --- | --- |
| | Skydio 2 Consumer Application no longer supports enterprise-level accounts. |
Skydio Enterprise App version:

14.3.x (iOS)

14.3.x (Android)

Skydio 2 drone software version:

14.3.x
New
Skydio 3D Scan
Skydio 3D Scan™ is unprecedented adaptive scanning software that is now available for purchase to use with Skydio 2 Enterprise App for iOS.* 3D Scan builds a model of the scene, using automated data capture processes to generate 3D models that include comprehensive coverage and ultra-high resolution. Operators can perform higher quality inspections in less time, with minimal pilot training. The precise, visually geotagged imagery generated by Skydio 3D Scan is easily exported to any mainstream photogrammetry software, generating high-quality, higher-resolution models without the mountains of extra data required by traditional capture methods.
Features include:
Adaptive Mapping
2D Capture
3D Capture
Visual Geofencing
Edge Model Viewer
Data Export to 3rd party photogrammetry software, including DroneDeploy, Pix4D, Bentley ContextCapture, and Reality Capture.
Multi-Battery Scan
Real-time AR Coverage
AR Observer
| | |
| --- | --- |
| | Available for purchase to use on your Skydio 2 Enterprise App running AEF™ |
Ceiling Height
Customize the height ceiling: adjust the maximum allowed flight ceiling height to between 30 and 1500 feet using the Enterprise App.
Disable the height ceiling: disable the maximum allowed flight altitude using the Disable Height Ceiling now available on the Enterprise App.
Navigation Lights
You now have the ability to disable the navigation lights on Skydio 2 while inflight. The RGB navigation lights will be on during the initial boot sequence and will turn off when the drone is ready to fly.
Enabled RGB navigation lights will now display red when the drone is facing you and green when facing away to help you quickly understand the orientation of your drone.
Customizable WiFi Credentials
Change the Skydio 2 WiFi password or reset a changed password back to the factory-generated credentials.
Enhanced
Additional Obstacle Avoidance Modes
Your Skydio 2 allows closer flight for navigation through tight spaces and up-close inspection of detailed assets with two additional obstacle avoidance modes:
Standard: 34 inches (86 cm) between your Skydio 2 and any obstacle
Close: 11 inches (28 cm) between your Skydio 2 and any obstacle
Minimal: 4 inches (10 cm) between your Skydio 2 and any obstacle
Disabled: obstacles avoidance is disabled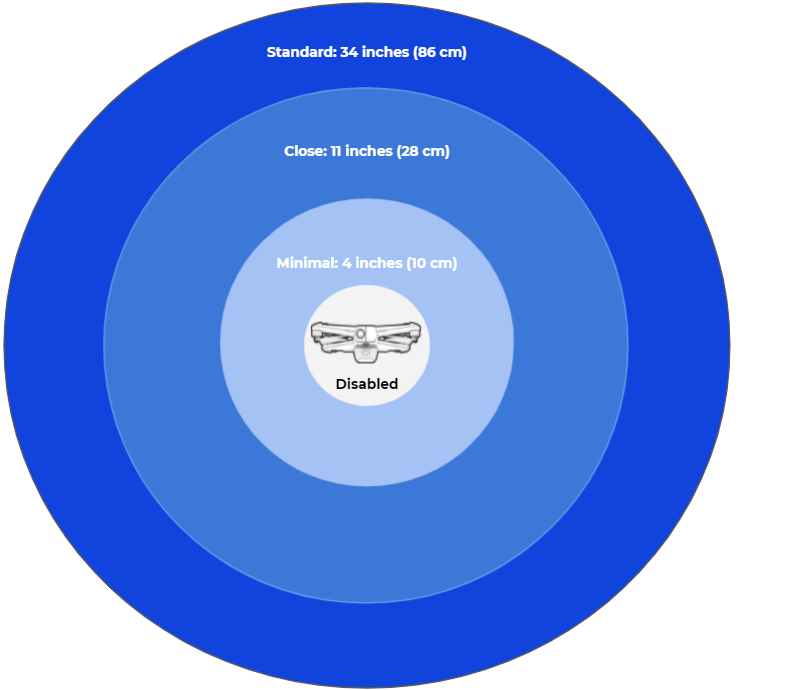 Standard, close, minimal the top airspeed is 25 mph (11.5 m/s).
Disabled the top airspeed is limited to 18 mph (8 m/s).
Battery Level Messaging
Have a better sense of how much time you have left to fly, how much time it takes to return, and how much time is required to land with the enhanced inflight battery indicator.
Percentage - displays battery charge remaining becomes a two-minute countdown when the drone has less than two minutes of time before a required landing.
Green - indicates how much time the user has of nominal flight before they hit the time limit required to safely return and land
Yellow - indicates how much time is required to safely return
Red - indicates how much battery is required to land and when the drone will begin a non-cancellable landing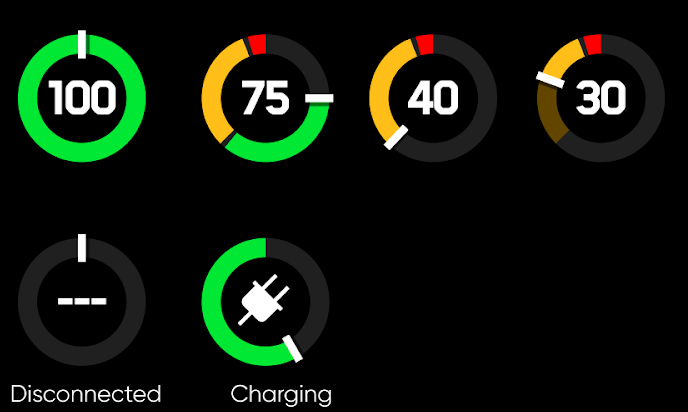 Cinematic Skills
Available on the consumer app and now available on the enterprise app.
Motion track: tracks a subject from a specified angle (front, side, or behind) relative to the direction the subject is moving.
Fixed track: tracks a subject from a fixed angle regardless of which direction the subject is facing or moving.
Dronie: flies up and outward, increasing in range, while continuing to track a subject
Hover: designate a fixed position to hover allowing the camera to track a moving subject
Rocket: flies straight up for a birds-eye view while tracking a subject
Boomerang: flies around a tracked subject expanding and then contracting back to the original rotation
Vortex: flies up and outward, circling a tracked subject
Increased Maximum ISO
Increased camera light sensitivity ISO to 6400 for improved freeze motion photography and low-light flying conditions
Smoother Zoom Controls
Dynamic camera tilt control sensitivity while digitally zoomed-in offering smoother cinematic footage
Increased Ceiling Height In GPS-denied environments
Skydio 2 can now ascend up to 20 m above takeoff when indoors
Fixes
Improved flight sensitivity and performance when initiating a case landing
Ability to Remove a Home Point
If you have questions or need additional support—feel free to reach out! Skydio Support
© 2021 Skydio, Inc. All rights reserved A0033
Was this article helpful?