Skydio X2D ATO Release Notes
Published: Updated:
[note text="This information applies to United States government operators"] 
July 25, 2023
| | |
| --- | --- |
| Skydio X2D vehicle software version: | 21.3.87 |
| Skydio Enterprise Controller-S software version: | 21.3.36 |
| QGC-Gov version: | 21.3.36 |
What's in this release:
NEW
---
Skydio X2D Multiband Radio variant
Introducing the Skydio X2D Multiband Color and Color/Thermal offering access to M1-M6 radio bands and the corresponding 4 MHz bandwidth channels.
RAS-A v1.1 Compliance
Robotics and Autonomous Systems – Air (RAS-A) MAVLink Control Link Interoperability Profile (IOP) compliance which includes manual control of the vehicle, autonomous missions (waypoints), camera and payload control, vehicle-specific skills, radio link configuration, pairing configuration, and maintenance.
QGC-Gov Integration
QGC-Gov integration enables compatibility with the open-source software solutions used in the Blue sUAS Program and the Army's Short Range Reconnaissance (SRR) Program.
Skydio Fleet Manager for Offline Drones
Updates from Skydio contain essential enhancements and fixes designed to improve performance and optimize flight controls and features for operating your Skydio X2D offline system and Enterprise Controller. Skydio has made it easy to access offline software updates through our self-service portal. Visit How to use Fleet Manager for Offline Drones for detailed information.
Skydio Scout Skill
Introducing Scout, a new Flight Skill, simplifies the flying experience when tracking a moving subject. Scout allows you to follow and track a GPS position at long range without the need to visually lock onto the tracked subject. For more information, visit, How to use the Scout Skill on Skydio X2.
Track the GPS position of your Enterprise Controller or Beacon
Adjust drone position and camera orientation while tracking a subject at a fixed distance
The drone operator has more freedom to focus on the live video feed to assess the surrounding environment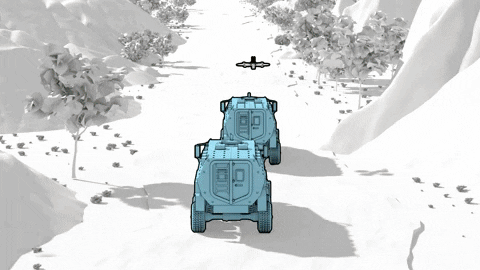 Positioning Behavior
Set the drone's behavior to automatically reposition itself to match changes in the subject's direction of motion, the drone will maintain its position relative to the tracked Skydio Enterprise Controller or Beacon. Select either Relative or Fixed in the Positioning Behavior menu:
Relative - as the subject's GPS heading changes, so will the subject frame with the tracked axis. The drone will autonomously yaw to mirror the rotational changes of the GPS heading.
Fixed - the drone's position and yaw will not reflect the rotational changes of the subject's GPS heading.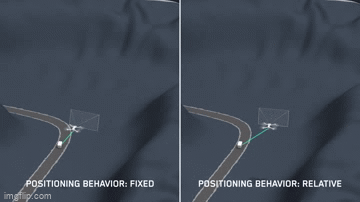 AR Marker
To improve the Scout experience, we have now added an AR marker over the tracked subject. This allows the operator to more easily orient themselves to the tracked GPS subject while in flight.
the AR Marker is red when the drone is close to the GPS subject and purple when it is furthest away
the AR marker displays the tracked subject at the height of the drone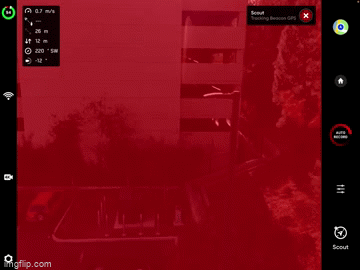 Beacon Compatibility with Skydio Scout
When using Scout, the Skydio Beacon is compatible with Skydio X2. When Beacon is connected, you will see a tab under Device Settings that displays the battery percentage and current software version.
Lock Beacon Controls 
Prevent button interactions on your Beacon by enabling Lock Beacon Controls. This ensures that unwanted actions, such as an accidental stop-tracking command, are avoided during flight. 
Enable this within the Beacon menu tab located in Device settings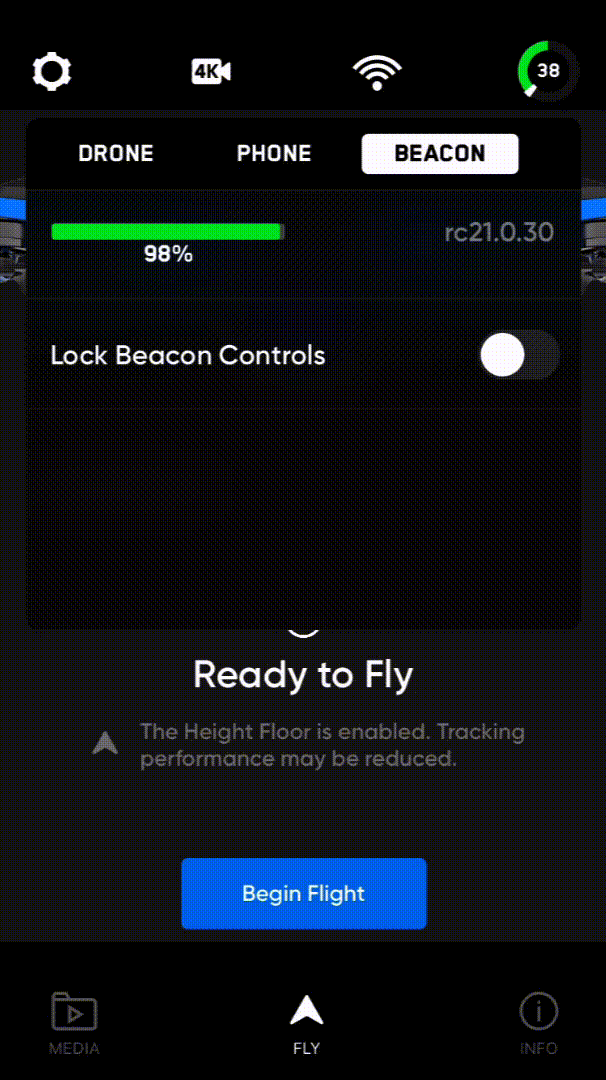 Quick Launch
Quick Launch allows you to use the battery power button to launch your Skydio X2, allowing for better focus on your drone. Quick Launch makes it easier to hand launch, so you do not have to balance the controller in one hand and your drone in the other.
Enable this in the Drone menu tab located in Device settings
Tap four times on the battery power button to initiate a launch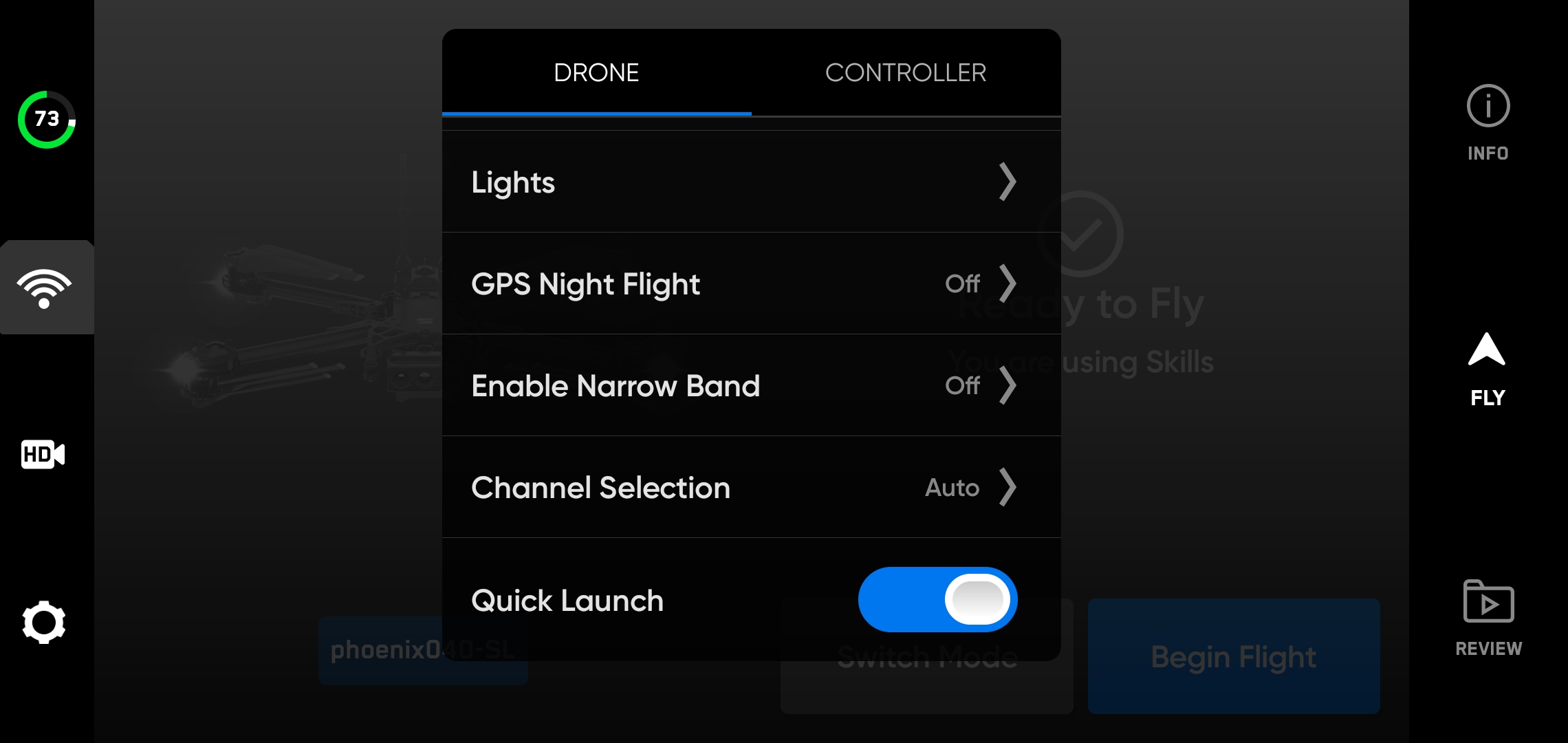 [note] Launching using the battery power button requires a Hand Launch. Follow the recommended safety guidelines before performing a Quick Launch. [/note]
Triangulation - Beta
Triangulation is a new flight skill that allows you to identify the location coordinates of an object. Visit How to Use the Triangulation Skill on Skydio X2 for detailed information. Skydio is offering pilots the opportunity to use this new feature in production to provide feedback and assist in developing the final design.
Panorama Skill
Introducing Panorama, a new Flight Skill that allows you to take three different types of panoramic photos:
Horizontal captures a 180° horizontal panorama centered at the horizon
Vertical captures a full 180° vertical panorama
Spherical provides a full 360° equirectangular image. The final stitched output includes metadata which allows the image to be viewed by 360° interactive viewers.
Panorama Live Preview displays a low-resolution preview frame of your shot. Fly to your desired location and adjust the roll, pitch, yaw, and throttle to encompass the scene, then let Skydio capture the rest. Visit How to use Panorama Skill on Skydio X2 for detailed information.

Low Battery Auto Return
If you have set a home point, Skydio will automatically return to that location when the battery level is low. Enabling or disabling this feature persists across flights and power cycles. See How to Set Return Behaviors on Skydio X2.
Enable this setting within the Return Behaviors menu
Select Return to Home Point under Low Battery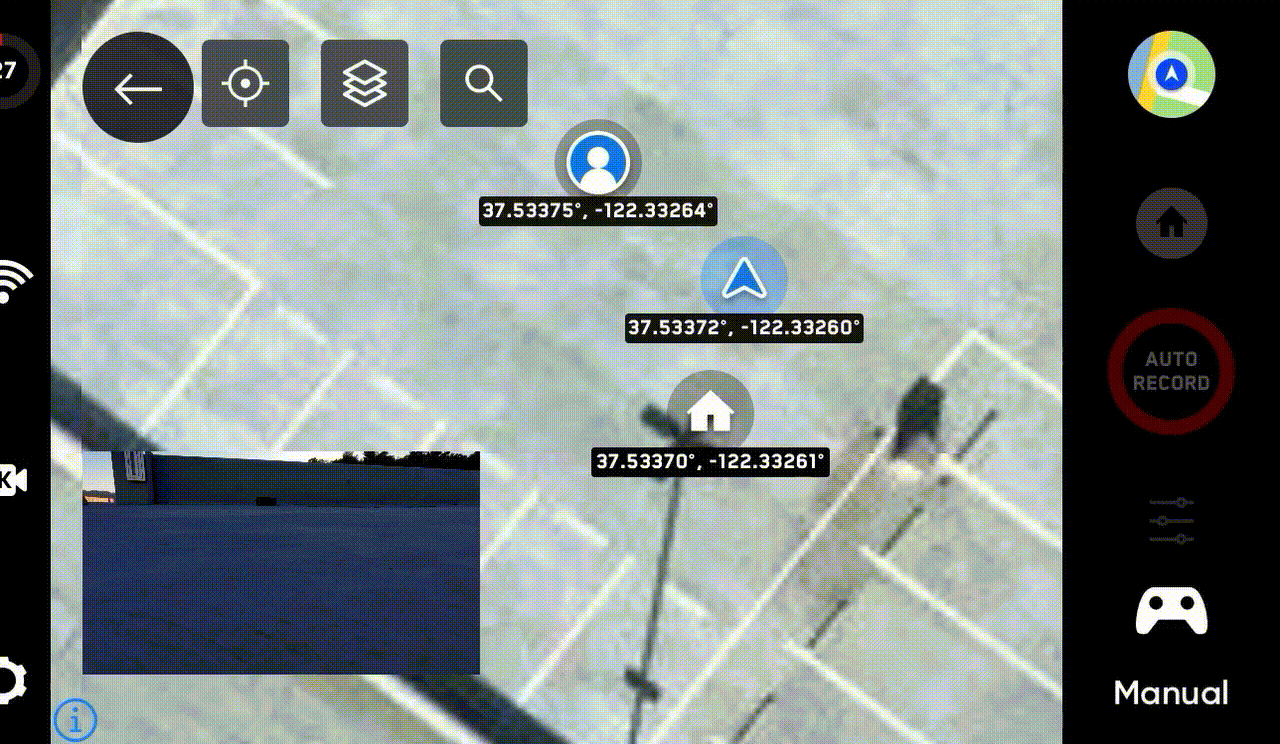 [note]You must set a Home Point to use Low Battery Auto Return.[/note]
ENHANCEMENTS
KeyFrame Improvements
Intuitively adjust the speed of your KeyFrame during flight using the roll joystick. In the KeyFrame skill settings menu, choose from three modes:
Absolute: Roll joystick input directly maps to drone movements. Skydio will stop when the joystick is centered. 
Relative: Roll joystick input increases or decreases speed. Skydio will maintain the current speed when the joystick is centered.
Off: Roll joystick movement does not affect the speed

[note] Roll controls the left and right horizontal movements of your drone. Left or right joystick may vary depending on your Flight Mode. A positive speed indicates left to right on the timeline. A negative speed indicates right to left on the timeline. [/note]
Enterprise Controller Updates
Additional Button Mapping
Customize the Left and Right Wheels with the following options: 
Left Wheel: Gimbal pitch, No function
Right Wheel: Digital Zoom, Physical Zoom, Exposure Compensation, No function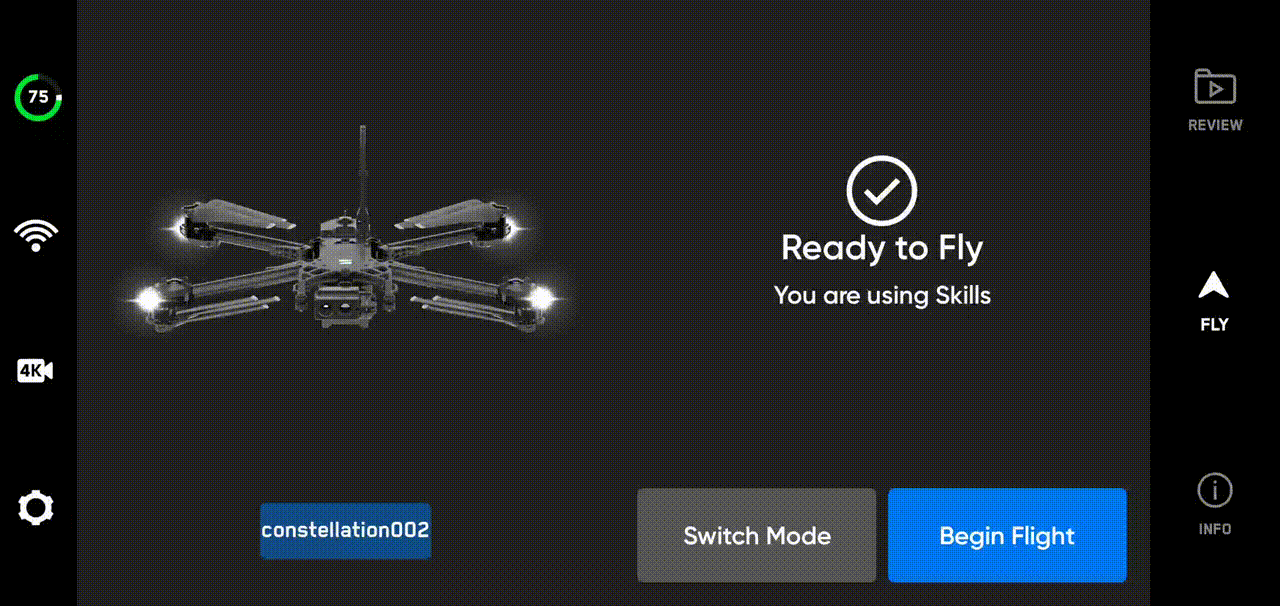 Power Level Enhancements
We have increased the Enterprise Controller power level on our Skydio X2D 5 GHz from 23 dBm to 30 dBm on UNII-1 bands. This will improve wireless ranges in congested environments from approximately 0.5 miles (850 m) to 0.83 miles (1,350 m).
Case Landing Improvements
To reduce the chances of canceling a Case Landing due to an accidental nudge, Skydio will require one second of joystick inputs to unlock from the case. Reinitiate a Case Landing by tapping the blue case icon.
[note] If you unlock the case, the drone will continue landing in place. Select the case to revert to a case landing. [/note]
Additional telemetry information
You can refer to additional telemetry information for your current flight in the top left of the live camera feed. New in-flight telemetry information includes Compass Heading - displayed in degrees ranging from 0° - 359° and cardinal directions.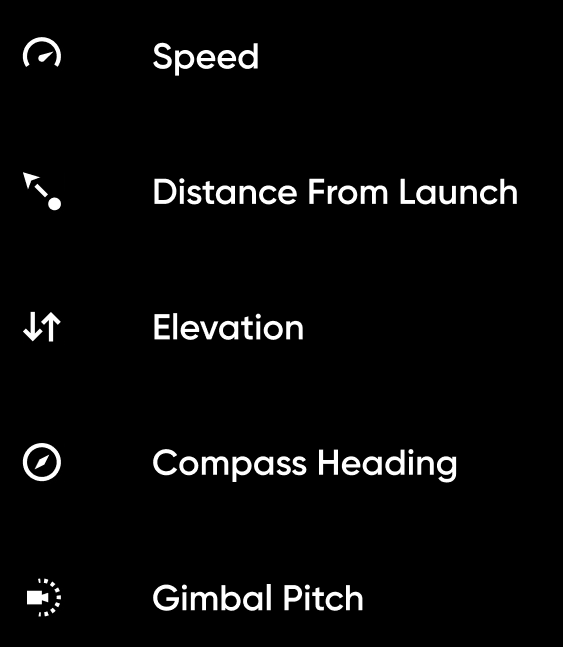 Updated Control Mode menu
Switch between Mode 1, Mode 2 (default), and Mode 3 style flight controls using the Control Mode menu. Previously named Flight Mode and located in Device Settings > Controller > Control Mode.
Height Ceiling
The minimum Height Ceiling has changed from 30 ft (10 m) to 9 ft (3 m)
Battery Updates
Improved capacity estimate for degraded batteries
Improved accuracy for landing time estimates during GPS Night Flight
Updated in-app messaging to provide earlier warnings in the event of a battery failure
To avoid damage, a fully charged battery that is stored in higher temperatures will discharge to 80% charge
Always follow the proper guidelines for maintaining batteries. Store batteries at room temperature between 71°F - 82°F (22°C - 28°C) and in a cool, dry area with less than 75% relative humidity. For detailed information, visit How to Maintain your Skydio X2 Batteries.
Tutorials Section
To access the instructional tutorials, navigate to the INFO tab and select the Tutorials menu under Support. Tutorials include:
Hand Wave Guide
Safety Guide
Other Improvements
Improved hovering performance while flying in GPS Night Flight
While charging or resting, the gimbal will switch to a relaxed state
[accordion heading="October 6, 2022"]
| | |
| --- | --- |
| Skydio X2D vehicle software version: | 19.4.19 |
| Skydio Enterprise Controller software version: | 20.1.30 |
| Skydio Enterprise Controller-S software version: | 20.2.11 |
NEW
Skydio ATAK Integration
Integrating the Skydio Enterprise and the Android Team Awareness Kit (ATAK) apps allows you to monitor your Skydio X2D fleet. ATAK provides geospatial information about your Skydio X2D and controlling device, allowing you to navigate using GPS and map data overlays for real-time situational awareness.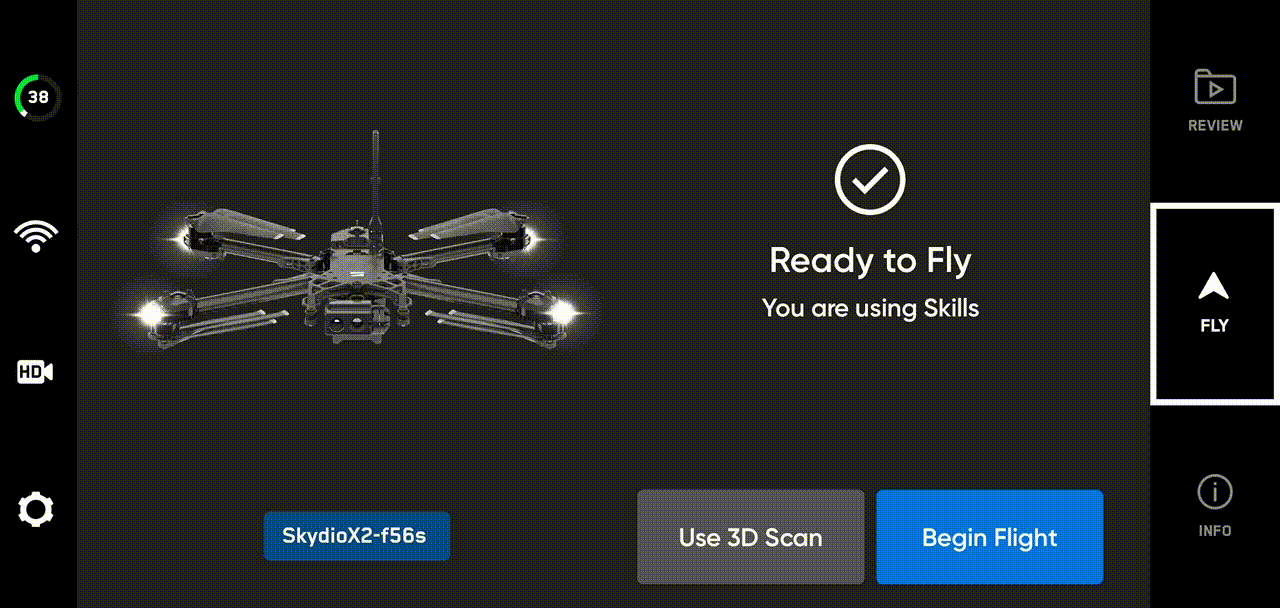 Integrating the Skydio Enterprise and the Android Team Awareness Kit (ATAK) apps allows you to monitor your Skydio X2D fleet. ATAK provides geospatial information about your Skydio X2D and controlling device, allowing you to navigate using GPS and map data overlays for real-time situational awareness.
Attitude Mode
Attitude Mode is a new Vehicle Mode available on Skydio X2D that allows you to disable the visual and GPS navigation systems. Designed to be flown by expert pilots, in GPS-denied environments, or where there is the potential for jamming, Attitude Mode offers a manual flight experience. You have direct stick control of the aircraft's throttle, yaw rate, pitch, and roll angles, rather than relying on automatic altitude and position stabilization. All autonomous functions, such as Return to Home and Obstacle Avoidance, are disabled.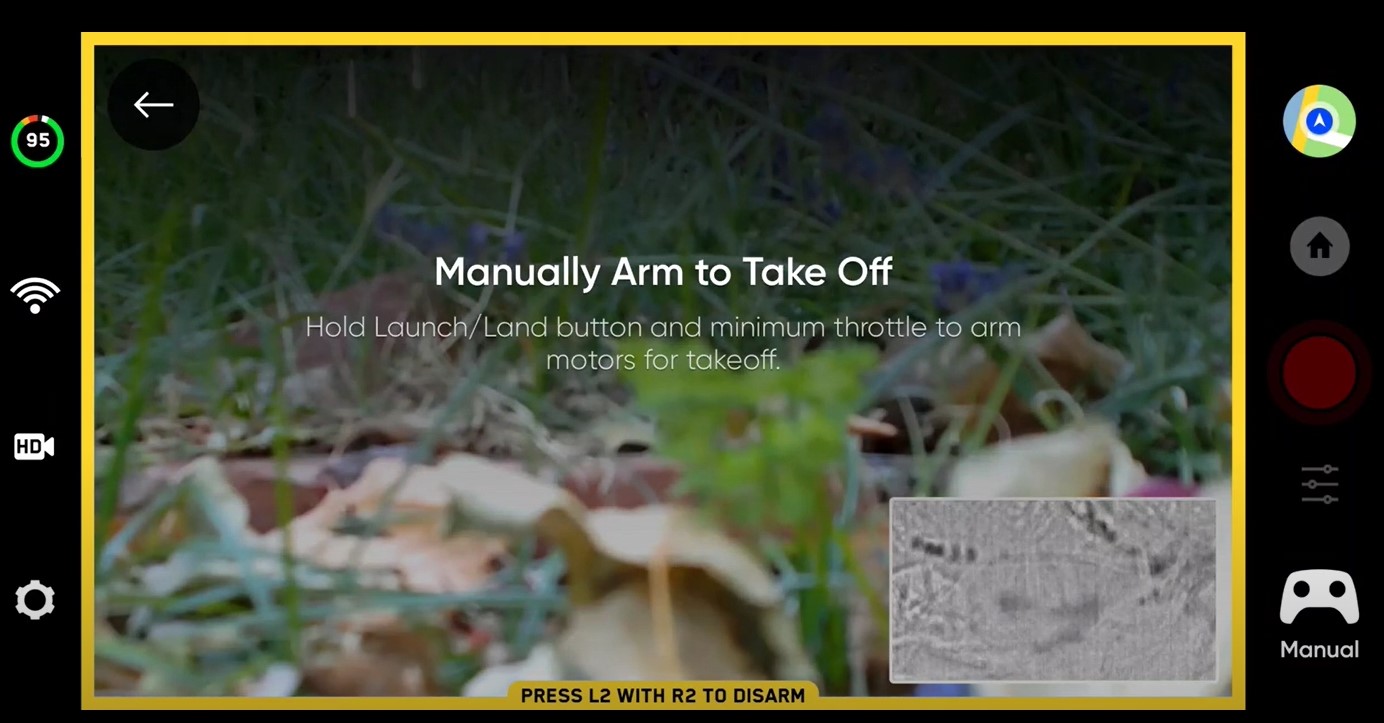 Thermal Settings
Thermal imaging detects infrared radiation to help see objects in the dark, by distinguishing the relative temperature to help you see warmer objects such as people and animals, against cooler backdrops. There are now more settings available to meet your operational requirements.
Automatic Gain Control (AGC) Tuning - With AGC Tuning, the gain, or signal noise, in your thermal image will automatically optimize for the contrast you have selected. Tuning presets are available for all thermal palettes. Options include:
| | |
| --- | --- |
| Reconnaissance - uses the lowest contrast settings; the temperatures in your image will be represented with a narrow range of colors or shades. | |
| Low contrast - displays a broader range of color than Reconnaissance allowing for more defined temperature differentiation. | |
| Medium contrast (default) - as you add contrast to your images the resulting temperature variances are represented by more colors, providing greater detail in your thermal imagery. | |
| High contrast - displays temperature variances using a wide range of colors, providing the highest level of detail in your thermal imagery. | |
Region of Interest - you now can select a Region of Interest (ROI) on your thermal image and apply AGC to that specific area. The area inside the ROI will be optimized with AGC, while the area outside the region of interest can still be viewed. Specifying the region of interest is useful when you need to quickly determine thermal irregularities by ignoring sections of a thermal reading that are irrelevant to you.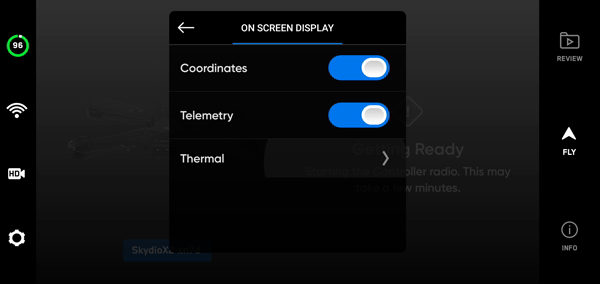 Thermal Video Feed Improvements
This update offers improved infrared stream quality. Skydio X2D now uses an adaptive bit rate that adjusts depending on the wireless channel conditions of your range and environment.
Maximum bit rate up to 1Mbps
Hand Wave Calibration
You now have a new Hand Wave magnetometer calibration method for GPS Night Flight. To use the faster and easier method of calibration:
Enable GPS Night Flight Mode

Enable Hand Wave Motion

Wave drone back-and-forth

Put down the drone

Launch

Visit Skydio X2 GPS Night Flight for more information about the calibration methods.
Connection Status
You can now view the strength of the signal connection between the controlling device and your Skydio X2D. Select the Connection Status icon to display the connected drone status, signal strength, GPS quality, and satellite count.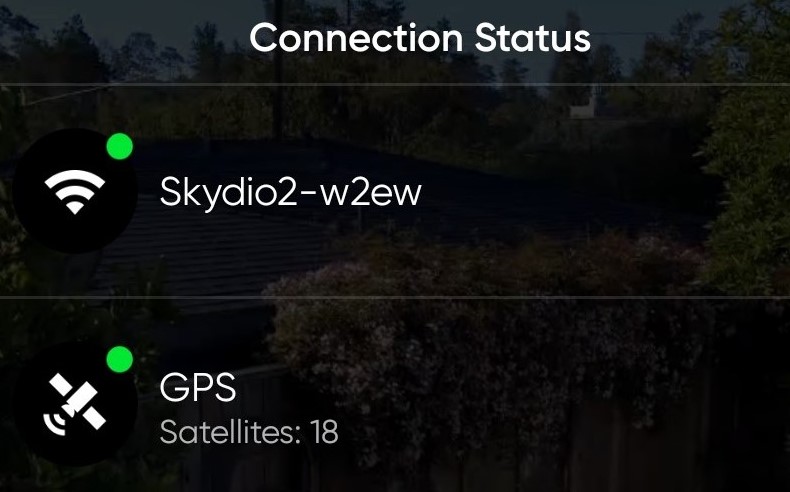 Button Mapping for Skydio Enterprise Controller
Skydio Enterprise Controller buttons L2 and R2 are now programmable. Select from:

Toggle Map
Toggle Camera thermal or color
Close Obstacle Avoidance
Minimal Obstacle Avoidance
Disabled Obstacle Avoidance
No Function
Save thermal photos
You now can choose whether or not you save thermal photos when a color photo is captured on your Skydio X2D Color/Thermal.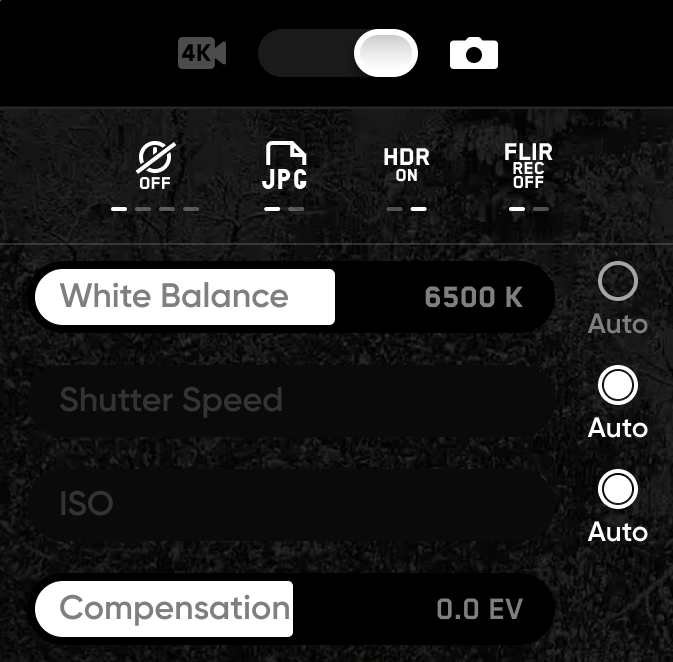 [info text="This does not affect the Thermal PiP display."] 
New VehicleName in Photo EXIF Data
Easily differentiate between the Skydio X2 Color and Skydio X2 Color/Thermal camera models with updated naming in the embedded EXIF/XMP image data.
Skydio X2 Color the VehicleName is displayed as X2 Wide
Skydio X2 Color/Thermal the VehicleName is displayed as X2 Narrow
Emergency Flight Termination
When flying with the Enterprise Controller, you can terminate your flight in the event of an extreme emergency. Press and hold the Land and Return buttons on the controller for three seconds while in flight to immediately stop your drone's motors.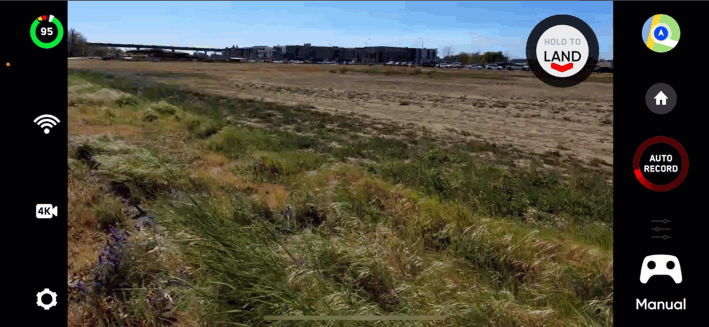 [warning text="Terminating a flight will cause your drone to crash. This will void your warranty and may result in injury or damage. Use only in extreme situations."]
Directional Pad (D-pad) Functionality
The directional pad on the Skydio Enterprise controller is now functional. You can use the D-pad to scroll through menus and select settings.
Push up, down, left, or right to navigate through menus and settings

Press in to select

To adjust a slider setting, scroll until the slider is highlighted and press down to select. The slider will turn blue to indicate it is active. Push left or right to adjust slider values, and press down to confirm

Usable both on the ground and during flight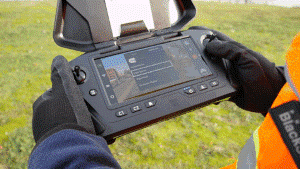 Radio channel selection
Manually select your radio frequency channel to avoid congestion from other signals.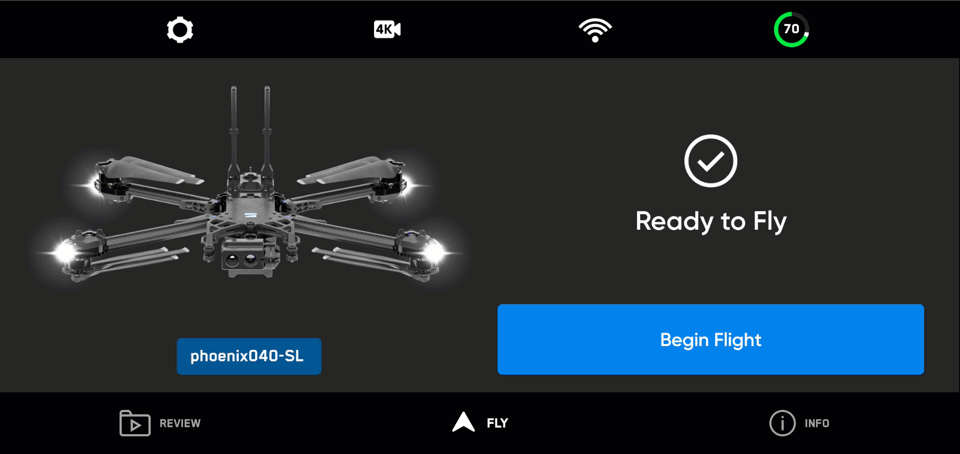 Select your radio frequency channel to avoid congestion from other signals while in flight.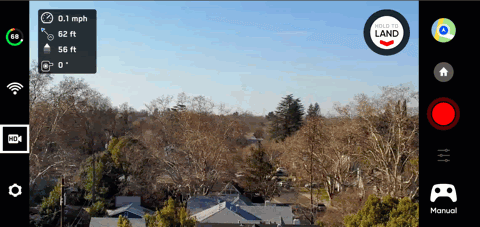 Dynamic Channel Selection
When set to auto, your Skydio X2D will automatically monitor signal interference and move to a clearer channel to improve wireless transmission signal quality during flight.
KeyFrame
KeyFrame is a new autonomous skill that allows even inexperienced pilots to choreograph professional cinematic aerial shots by capturing continuous, complex video with smooth camera motion. KeyFrame flights can be flown repeatedly, with varying complexity, subtle camera moves, speed adjustments, and obstacle avoidance. Set up your sequence by adding up to 100 keyframes in a 3D space. Adjust the camera framing at each keyFrame to create dynamic, multi-point flight paths. You can reverse, speed up, slow down or repeat your custom flight path and watch as Skydio X2 smoothly and autonomously flies from point to point.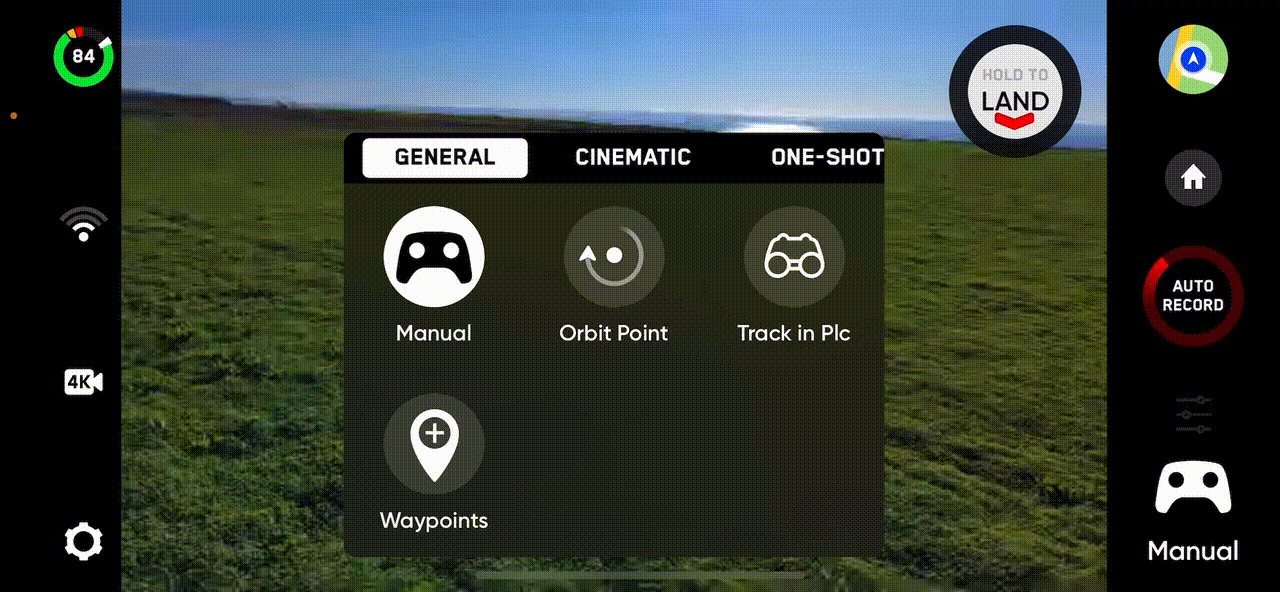 When playing back a KeyFrame sequence, you can now choose to have Skydio prioritize Accuracy or Speed.

Accuracy: Skydio may dynamically slow down around sharp turns. Helps to avoid cutting corners to maintain your drone's position along the KeyFrame path
Speed: Your drone may fly off the KeyFrame path to maintain a steady speed

KeyFrame Settings > Prioritize

[info text="The maximum KeyFrame speed for Skydio X2 remains at 11 mph (5 m/s)."] 
IMPROVEMENTS
Disable Return when Disconnected
You now can toggle off the Return when Disconnected setting and the corresponding Lost Connection settings below it. When toggled off, Skydio X2 will not return if it loses connection—it will hover until it reaches low battery and land.
Improved video feed at long ranges
Video throughput has been improved when flying at long ranges, resulting in smoother, clearer video streaming to the controller.
Zoom support for photos
Your photos will now be saved at the zoom level at which they were captured.
Radio sensitivity issues improved
previously Skydio X2 was overly de-sensing its radios in response to interference, which was causing poor signal quality

Skydio X2 is now able to dynamically adjust the sensitivity of its radios according to the level of interference the drone is experiencing, resulting in better signal quality and control range in all environments
[/accordion]
[accordion heading="October 18, 2021"]
Skydio is proud to announce exciting new features in our software release designed for a more safe and intuitive flying experience now available for Skydio X2D.
| | |
| --- | --- |
| Skydio X2D drone version: | 15.10.17 |
| Skydio Enterprise Controller version: | 15.10.5 |
NEW
3D Scan* Available for Skydio X2D
Skydio 3D Scan is unprecedented adaptive scanning software that is now available for purchase to use with Skydio X2D 3D Scan automates data capture for asset inspection and scene reconstruction to efficiently capture a complete photographic dataset that documents every angle of a scene, ensuring accurate coverage with sub-millimeter precision with a fraction of the time and the risk. You can perform higher quality inspections in less time, with minimal pilot training. The precise, visually geotagged imagery generated by Skydio 3D Scan is easily exported to any mainstream photogrammetry software, generating high-quality photosets without the mountains of extra data required by traditional capture methods. 2D GPS Capture, a new 3D Scan capture mode, offers you the ability to preplan your flight using a top-down map view. 
            *Requires additional license
Map Coordinates
When viewing your maps, creating waypoint missions, or orbiting a point of interest, you now have the option to display latitude and longitude coordinates. The position of Skydio X2D, the controller, Home Point, and Fly Here Now will display coordinates on the map in real-time. Disable the setting if you do not want coordinates displayed. Your selection will persist across flights and power cycles.
Find Drone - If the Coordinates setting is enabled, the coordinates of your drone's current or last known location are displayed, making it easier for you to locate your lost drone.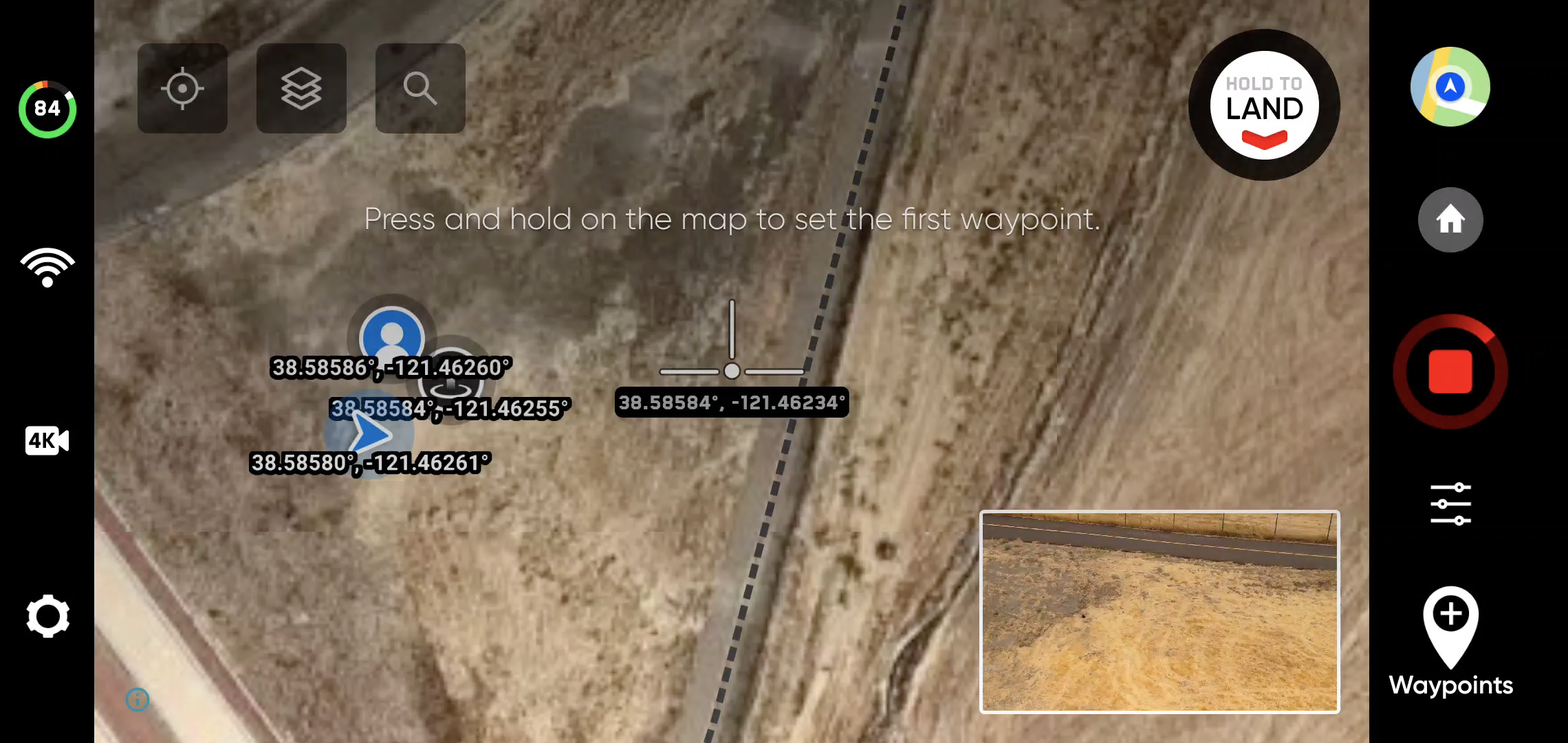 Thermal Palette
Skydio X2D now has more thermal palettes to choose from for efficient analysis of your environment. The thermal camera assigns each pixel a unique color or shade based on a relative temperature data point. Changing the thermal palette can help highlight specific warm or cold people, objects, or points of interest for better identification confidence and decision-making. Thermal palette selection persists across flights and power cycles.
| | |
| --- | --- |
| White Hot (default) - displays warmer objects in white and cooler objects in black to generate detailed images—well suited for use in urban environments. | |
| Black Hot - is an inverted White Hot, displaying warmer objects as black and cooler objects as white. | |
| Rainbow - uses colors to display subtle variations in scenes with low-contrast heat differentials. | |
| Ironbow - uses color to display heat distribution and thermal anomalies. Warmer objects are represented in lighter colors and colder objects in darker colors. | |
Indoor Height Ceiling
When flying indoors without GPS, Skydio will prevent you from flying above 66 feet (20 meters). With this update, we've added the option to disable this Indoor Height Ceiling. If you choose to disable your indoor height ceiling, make sure your drone stays within 66 ft of surfaces to ensure robust visual navigation.
By default the Indoor Height Ceiling is enabled; disabling the Indoor Height Ceiling setting does not persist across flights or power cycles.
Memory Card Overwrite
Skydio has made it easier for you to manage your media storage space by automatically deleting old media to ensure that you can always start a new flight without waiting. Toggle this setting on to automatically delete the oldest media stored on the SD memory card. This setting will persist across flights and power cycles.
View Last Flights
The View Last Flight feature is designed to assist with locating your Skydio X2D in the event of a crash, emergency landing, or low battery landing in an unintended location. Review video of the 10 most recent flights, even if your Controller is not connected to your Skydio X2D.
View the recorded video as Skydio X2D lands to help you identify the location of your lost drone.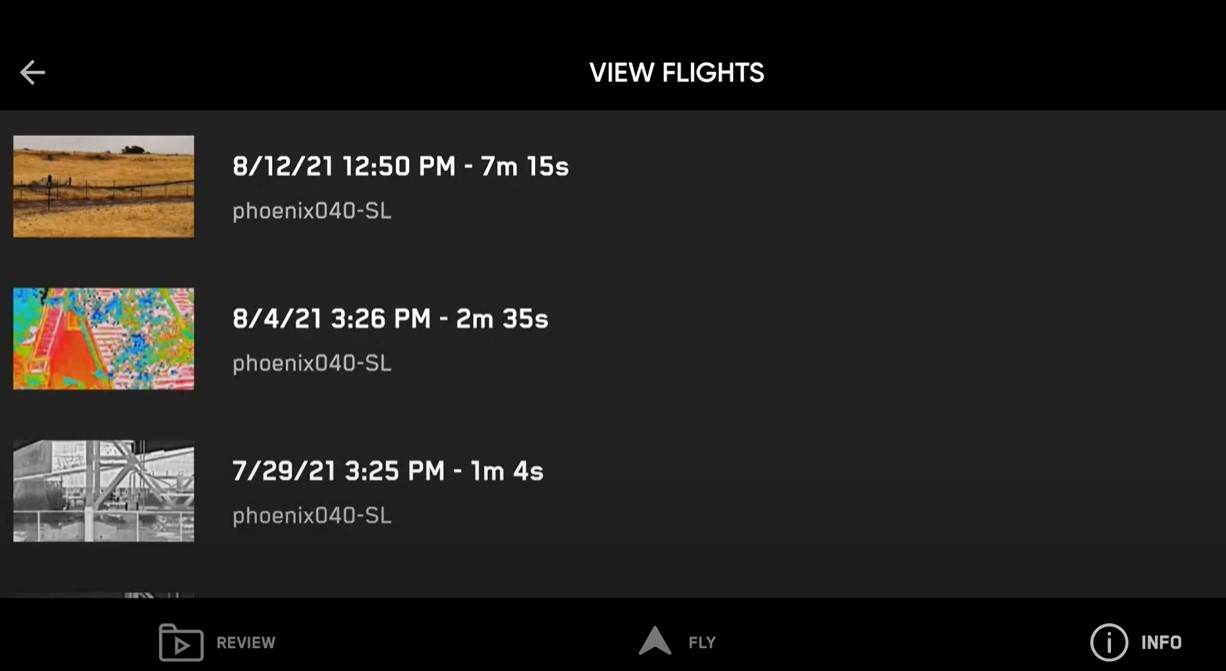 Anti-flicker
You now have the ability to adjust anti-flicker settings if you experience flickering in your video. This setting is for users located outside of North America, in countries where the frequency of the alternating current in household electrical outlets is 50 Hz.
60 Hz (default) - North America
50 Hz - Australia and New Zealand
Lost Connection Return Behaviors
Choose how your want your drone to behave if the signal to your controlling device is lost:
Wait Before Return - Specify the amount of time that you want Skydio X2D to wait before it initiates a return flight, allowing time to reconnect.
Land Once Returned - When enabled, Skydio X2D will return, hover for a specified amount of time, then land.
Wait Before Land - Specify the amount of time between 0 to 300 seconds (default - 240 seconds) that you want Skydio X2D to wait before landing. Only available when Land Once Return is toggled on.
Flight History .CSV
You can now save a record of flight information to a flight_log.csv file in the root folder of the media SD card containing the following flight data:
Vehicle name
Flight ID
Launch latitude/longitude and time
Land latitude/longitude and time
Zoom in While Tracking Subject
You can now zoom in while tracking a subject. Initiate the Track in Place skill and digitally zoom in up to 3x with color and 1.5x with thermal for a clear and enlarged view of the individual or vehicle being tracked.
ENHANCED
Lights
Turn the RGB navigation lights off, and they will now stay off from the moment you power on your Skydio X2D and throughout your flight. The setting will persist across flights and power cycles.
FIXED
Improved zoom tracking for better case landings
Media will display immediately after landing
Return to Home joystick issues solve
[/accordion]
Explore More
Explore related articles for additional information
Access Skydio X2D Manuals, Checklists, and Guides
 Skydio, Inc. A0250
Was this article helpful?