How do you use Live Streaming in Skydio Cloud?
Published: Updated:
Live stream video feed from your Skydio drone to viewers logged into Skydio Cloud on a web or mobile browser. You must set up your Skydio Cloud account, add users and pilots, and claim your Skydio vehicles to use the Live Stream feature.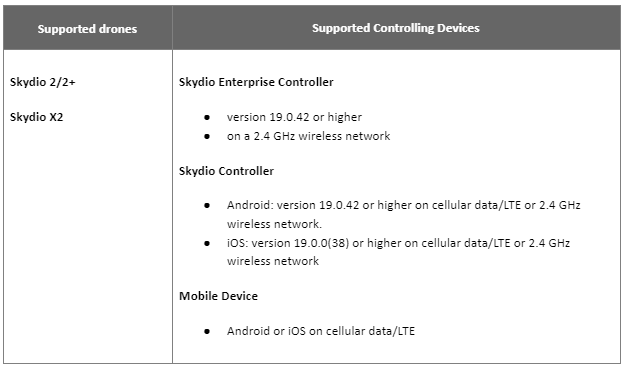 Set up Skydio Cloud for Live Streaming
Initiate a Live Stream
Step 1 - Power on your controlling device and connect to your drone

Step 2 - Ensure that your controlling device is connected to the Internet or a hotspot

Skydio Enterprise Controller

select the INFO menu and Device Settings
select Network and WiFi settings to add an Internet or hotspot connection

Skydio Controller or phone

Connect your controlling device directly to the Internet or to a WiFi hotspot. If using WiFi, ensure connected over a 2.4 GHz network.
For iPhone hotspots (iPhone 12 model or later, iPad Pro 11-inch (3rd generation or later), iPad Pro 12.9-inch (5th generation or later), or iPad mini (6th generation)), select the maximize compatibility toggle on the hotspot menu (older iPhones may not have the maximize compatibility option).

The supported hotspot table lists known and tested devices, other adapters may work.

Step 3 - Select the video/camera icon and the Streaming tab

Step 4 - Select Start Streaming

start a live stream before or during a flight
to live stream a 3D Scan, start the live stream from the controlling device before you launch your drone

[note text="The quality of display on your controlling device while streaming may be degraded depending on the network quality. To revert to non-degraded video, stop the live stream. The bitrate for Live Stream can vary between 0.5 and 2.1 Mbps, depending on the signal link quality from your controlling device to your drone."]

Step 5 (optional) - Optimize the video quality for the pilot or viewers

Select the Camera icon
Select Streaming and Quality Preference

Step 6 (optional) - Set the thermal palette to live stream from Skydio X2 Color/Thermal

Select the Device settings menu icon
Select the Controller tab
Select On Screen Display
Select Thermal and toggle On Screen PIP On
View the Live Stream in Skydio Cloud
Step 1 - Log in to cloud.skydio.com on a web or mobile browser

vehicles in your organization with active live streams will display a LIVE badge

Step 2 - Select a vehicle/stream to view

the live stream feed supports color and thermal video

[info]Video stream resolution will be up to 720p with a strong network signal connection (> 5 Mbps). The live video stream quality depends on the strength of the signal connection from the drone to the controlling device and the pilot's internet connection. The pilot can optimize the video feed for the pilot or the viewer. [/info]
Share a Live Stream link
Generate a Live Stream video feed link to share with people outside of your organization.
Viewable from mobile or desktop devices
Set an expiration date and time, and revoke the link at any time
Organizations that are enabled for multi-viewer streaming allow multiple users to use the same link
Step 1 - From your Fleet Dashboard, select Share Live Stream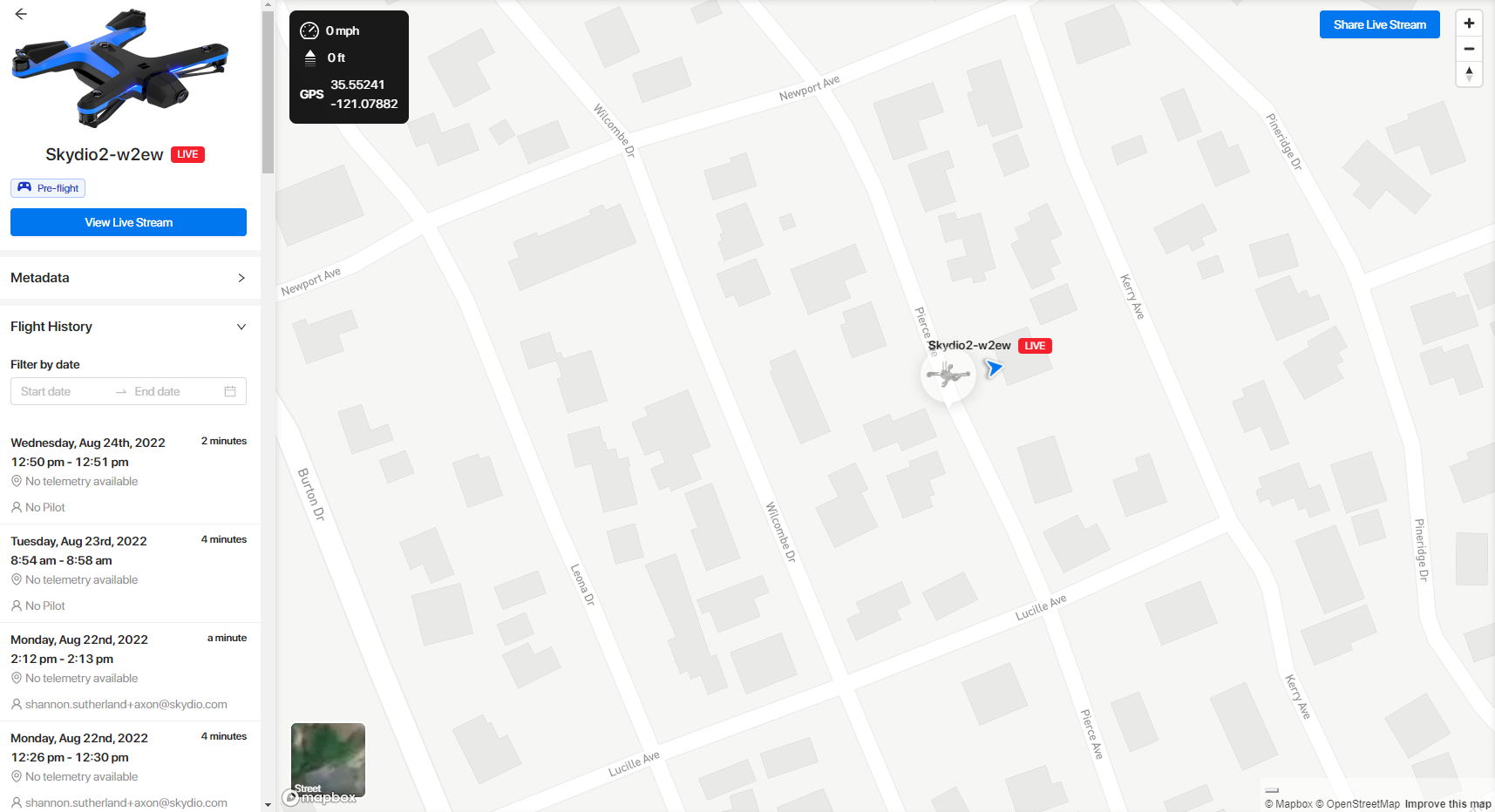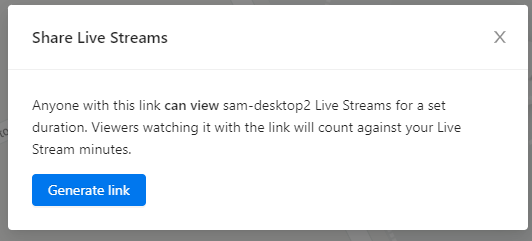 Step 2 - Edit the link duration or revoke the link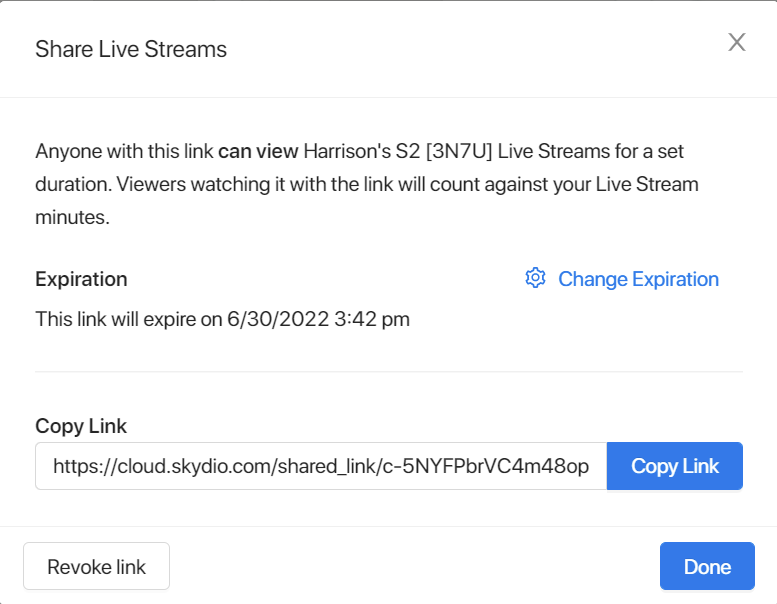 Viewing thermal streams
Skydio X2E Color/Thermal can share thermal and color Live Streams. Web browser viewers can utilize the Picture in Picture (PIP) view to switch between the two streams. The type of thermal view available depends on the pilot's settings:
White Hot
Black Hot
Rainbow
Ironbow
Troubleshooting
[accordion heading="Live Stream Request Timed Out error message"]
When attempting to live stream from a Verizon MiFi hotspot, such as the Verizon Jetpack MiFi 8800L, T-Mobile inseego MiFi X Pro 5G, or a Cradlepoint R1900 using a Verizon SIM, there is a known issue with hotspot firmware that causes an incompatibility with the common protocol (WebRTC) used for Skydio Live Streaming.
This issue will cause repeated disconnection and prompt the error message. Skydio recommends using an alternate hotspot model for Skydio Live Streaming, such as Cradlepoint IBR-900. Skydio is working to mitigate the issue to enable live streaming over Verizon MiFi devices.
[/accordion]
[accordion heading="When trying to live stream, my controller screen goes blank and reboots"]
You may experience this issue if your vehicle has not yet been claimed in Skydio Cloud. Make sure to add all of your devices to Skydio Cloud before live streaming.
[/accordion]
Explore More
Explore related articles for additional information
Getting Started with Skydio Cloud
Skydio, Inc. A0213
Was this article helpful?