April 21, 2022
| | |
| --- | --- |
| Skydio X2D drone software version: | 19.0.56 |
| Skydio Enterprise Controller software version: | 19.0.47 |
| | |
| --- | --- |
| | This information applies to non-United States government and international operators |
For more information visit:
Skydio X2D Manuals and Guides
New
Hand Wave Calibration
You now have a new Hand Wave magnetometer calibration method for GPS Night Flight. To use the faster and easier method of calibration:
Enable GPS Night Flight Mode

Enable Hand Wave Motion

Wave drone back-and-forth

Put down the drone

Launch

Visit

Skydio X2 GPS Night Flight

for more information about the calibration methods.
Connection Status
You can now view the strength of the signal connection between the controlling device and your Skydio X2E. Select the Connection Status icon to display the connected drone status, signal strength, GPS quality, and satellite count.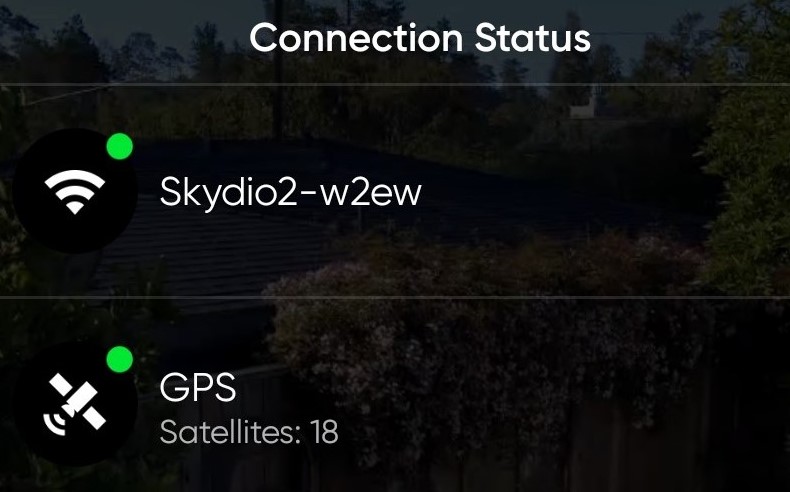 Button Mapping for Skydio Enterprise Controller
Skydio Enterprise Controller buttons L2 and R2 are now programmable. Select from:

Toggle Map
Toggle Camera thermal or color
Close Obstacle Avoidance
Minimal Obstacle Avoidance
Disabled Obstacle Avoidance
No Function
Dynamic Channel Selection
When set to auto, your Skydio X2E will automatically monitor signal interference and move to a clearer channel to improve wireless transmission signal quality during flight.
Save thermal photos
You now have the ability to choose whether or not you save thermal photos when a color photo is captured on your Skydio X2E Color/Thermal.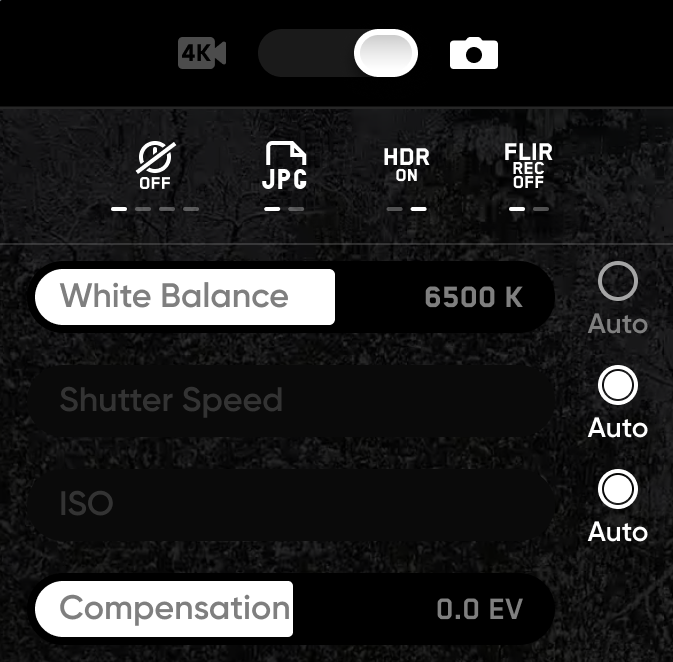 | | |
| --- | --- |
| | This does not affect the Thermal PiP display |
New VehicleName in Photo EXIF Data
Easily differentiate between the Skydio X2 Color and Skydio X2 Color/Thermal camera models with updated naming in the embedded EXIF/XMP image data.
Skydio X2 Color the VehicleName is displayed as X2 Wide
Skydio X2 Color/Thermal the VehicleName is displayed as X2 Narrow
Emergency Flight Termination
When flying with the Enterprise Controller you will now have the option to terminate your flight in the event of an extreme emergency. Press and hold the Land and Return buttons on the controller for three seconds while in flight to immediately stop your drone's motors.
| | |
| --- | --- |
| | WARNING: Terminating a flight will cause your drone to crash. This will void your warranty and may result in injury or damage. Use only in extreme situations. |
Directional Pad (D-pad) Functionality
The directional pad on the Skydio Enterprise controller is now functional. You can use the D-pad to scroll through menus and select settings.
Push up, down, left, or right to navigate through menus and settings
Press in to select
To adjust a slider setting, scroll until the slider is highlighted and press down to select. The slider will turn blue to indicate it is active. Push left or right to adjust slider values, and press down to confirm
Usable both on the ground and during flight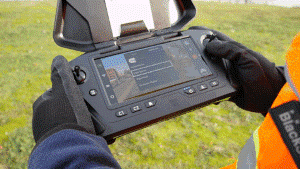 Enhancements
Radio channel selection
You now have the ability to manually select your radio frequency channel to avoid congestion from other signals while in flight.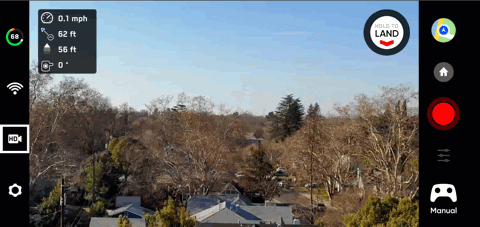 KeyFrame
KeyFrame is a new autonomous skill that offers even inexperienced pilots the ability to choreograph professional cinematic aerial shots by capturing continuous, complex video with smooth camera motion. KeyFrame flights can be flown repeatedly, with varying degrees of complexity, subtle camera moves, speed adjustments, and obstacle avoidance. Set up your sequence by adding up to 100 keyframes in a 3D space. Adjust the camera framing at each keyFrame to create dynamic, multi-point flight paths. You can reverse, speed up, slow down or repeat your custom flight path and watch as Skydio X2 smoothly and autonomously flies from point to point.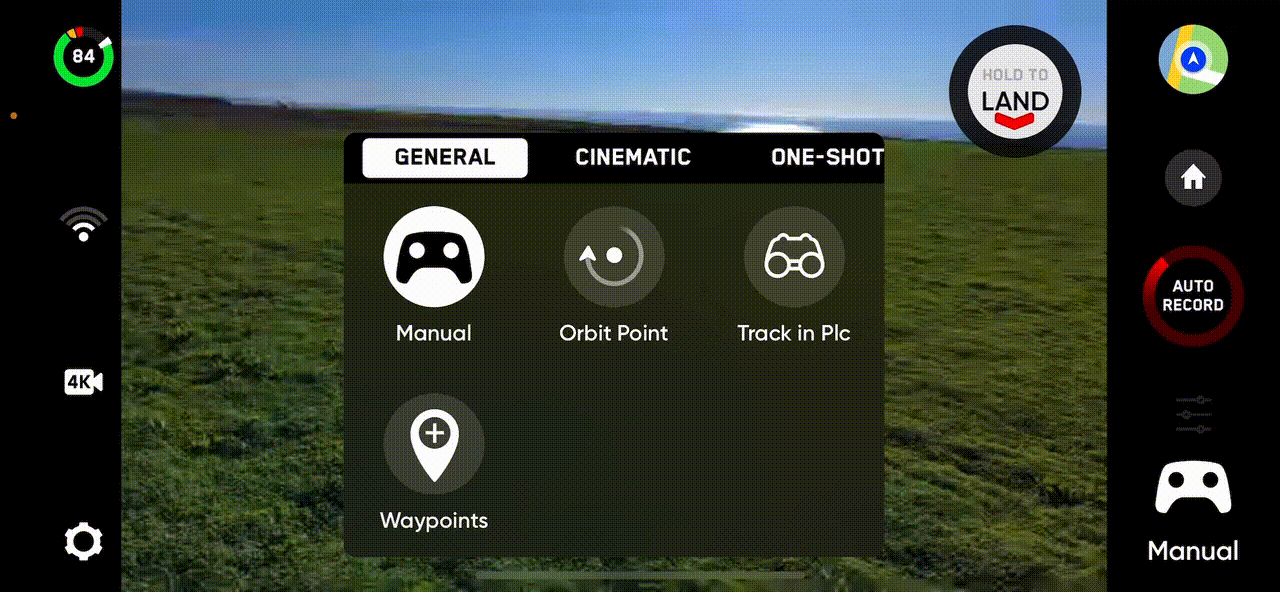 When playing back a KeyFrame sequence, you can now choose to have Skydio prioritize Accuracy or Speed.

Accuracy: Skydio may dynamically slow down around sharp turns. Helps to avoid cutting corners to maintain your drone's position along the KeyFrame path
Speed: Your drone may fly off the KeyFrame path to maintain a steady speed

KeyFrame Settings > Prioritize
Enhancements
Disable Return when Disconnected
You now have the option to toggle off the Return when Disconnected setting and the corresponding Lost Connection settings below it. When toggled off, Skydio X2 will not return if it loses connection—it will hover until it reaches low battery and land.
Improved video feed at long ranges
Video throughput has been improved when flying at long ranges, resulting in smoother, clearer video streaming to the controller.
Radio channel selection
You now have the ability to manually select your radio frequency channel to avoid congestion from other signals.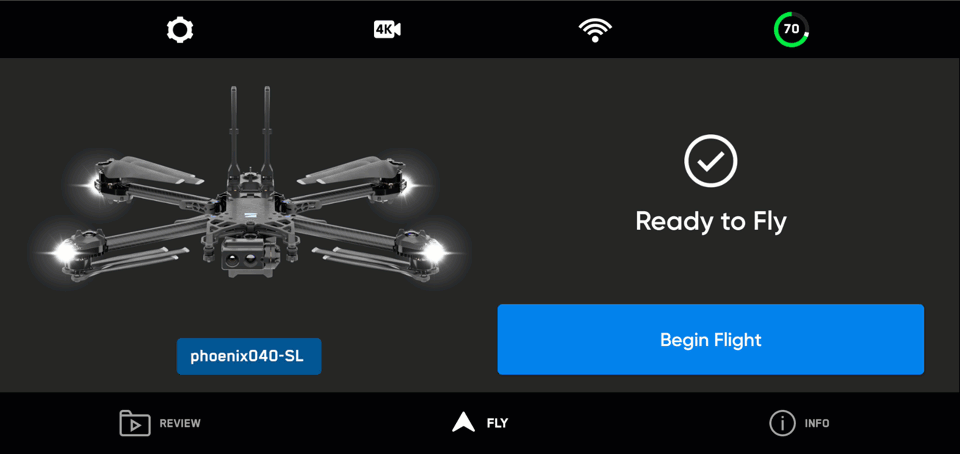 Fixes
Zoom support for photos
Your photos will now be saved at the zoom level at which they were captured.
Radio sensitivity issues improved
previously Skydio X2 was overly de-sensing its radios in response to interference, which was causing poor signal quality
Skydio X2 is now able to dynamically adjust the sensitivity of its radios according to the level of interference the drone is experiencing resulting in better signal quality and control range in all environments
---
Skydio, Inc. A0251
Was this article helpful?