January 4, 2022
Skydio app version

15.11 (iOS)

15.11.36 (Android) Requires Android 9 or higher

Skydio 2/2+ Vehicle Software Version

15.11
For more information visit:
Access Skydio 2 Manuals and Guides
| | |
| --- | --- |
| | This update will be released gradually over the course of 1 week. If you do not see the update in the App Store or Google Play by January 11, 2022, please contact Skydio Support. |
Introducing Skydio 2+
Skydio 2+ is your personal flying film crew, enabling autonomous aerial cinematography with the tap of a button, so you can achieve mind-bending shots while enjoying heart-stopping adventures. Fly autonomously with 360-degree obstacle avoidance, extended range, a more robust wireless connection, longer battery life, and the all-new KeyFrame skill. Skydio 2+ allows anyone - with any skill level - to create Hollywood-style shots in seconds.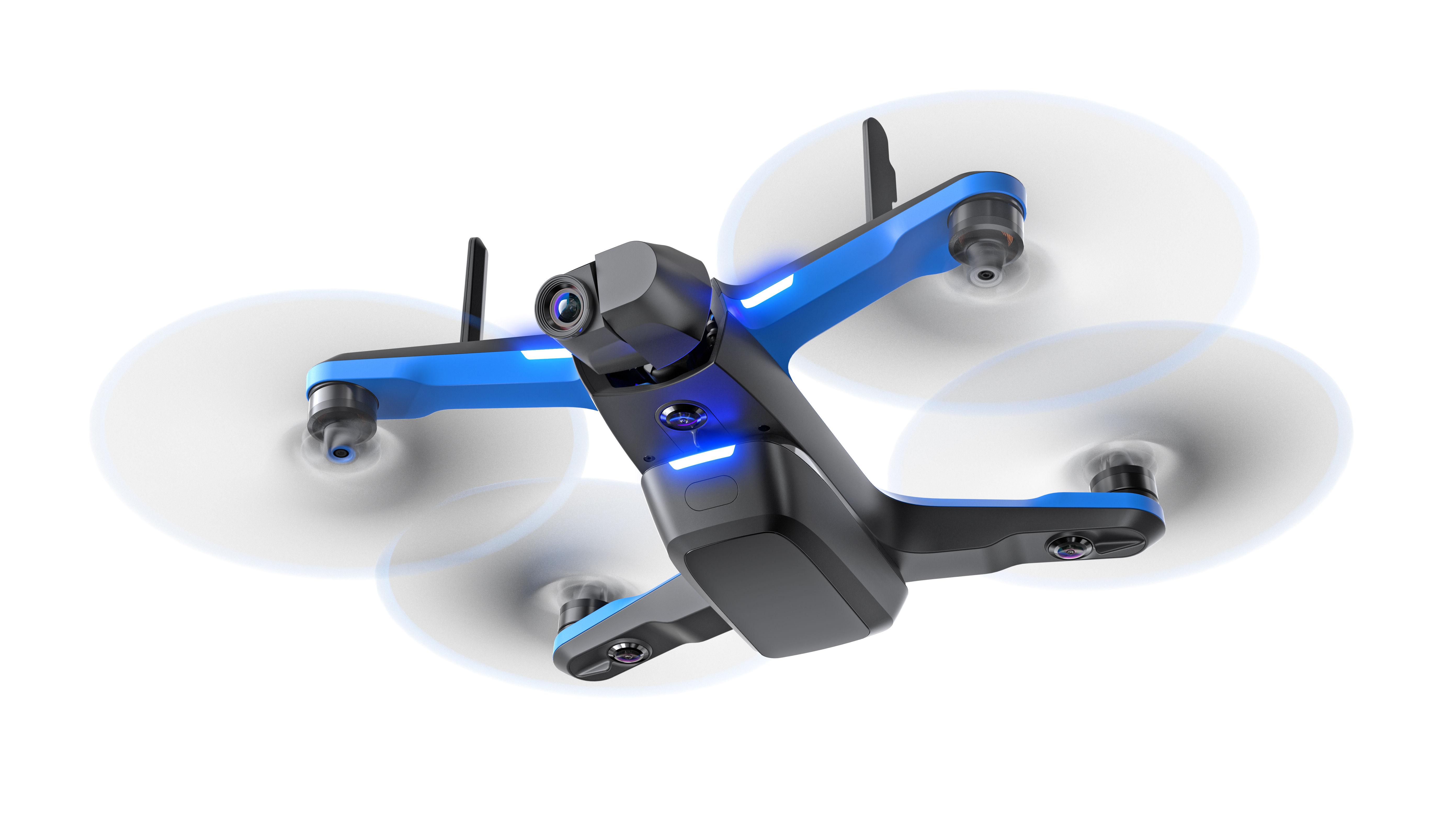 Introducing Skydio Care
Fly Fearless with Skydio Care. Skydio Care enhances the Skydio Limited Warranty with an extra layer of protection that protects you from damage resulting from collisions and water damage, lowering the replacement fees to as little as $150. Learn more about Skydio Care.
Skydio Care is only valid when purchased within 30 days of your original Skydio 2+ purchase on shop.skydio.com.
Skydio Autonomy Software
New
KeyFrame Skill
Introducing KeyFrame, a new Flight Skill which enables you to easily design the perfect cinematic shot. Set up your sequence by adding up to 100 keyframes in a 3D space. Adjust the camera framing at each keyframe to create complex, multi-point flight paths. You can reverse, speed up, slow down or repeat your custom flight path and watch as Skydio smoothly and autonomously flies from point to point.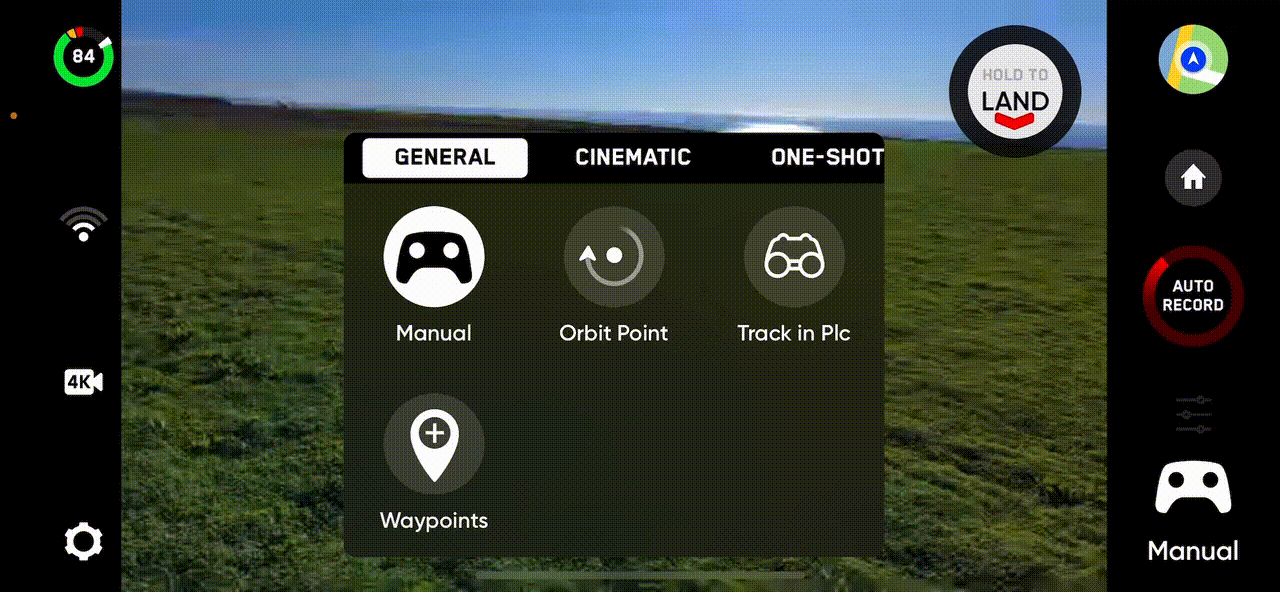 Enhancements
Long-Range Improved Video Feed
Improved video throughput when flying at long ranges, resulting in smoother, clearer video streaming to the Skydio app
Radio Channel Selection
Manually select your radio frequency channel to avoid congestion from other signals
Dronie Trajectory Change
Skydio 2/2+ will now fly out and away from a subject along a trajectory line defined by the camera gimbal angle. Distance and Height Limits now act as boundaries within which the drone will fly while performing a Dronie. The boundary of the Dronie is defined when the drone reaches the height limit or the distance limit, whichever is first.
October 14, 2021
Skydio is proud to announce exciting new features in our software release (Version 15.10) including advanced autonomy and AI processes optimized to make your flying experience safer, more robust, and intuitive.
Skydio 2 app version

15.10.0 (6)(iOS)

15.10.5 (Android) Requires Android 9 or higher

Skydio 2 Vehicle Software Version

15.10.17
For more information visit:
Access Skydio 2 Manuals and Guides
New
Height Ceiling
Skydio 2 now offers the option to enable, disable, or edit the Height Ceiling for high-altitude flight. Height ceiling selections will persist across flights and power cycles.
Disabled — Height Ceiling is set at 400 ft (122 m)
Enabled — Height Ceiling Altitude slider displays allowing you to customize your maximum drone altitude from 30-1500 ft (10-457 m)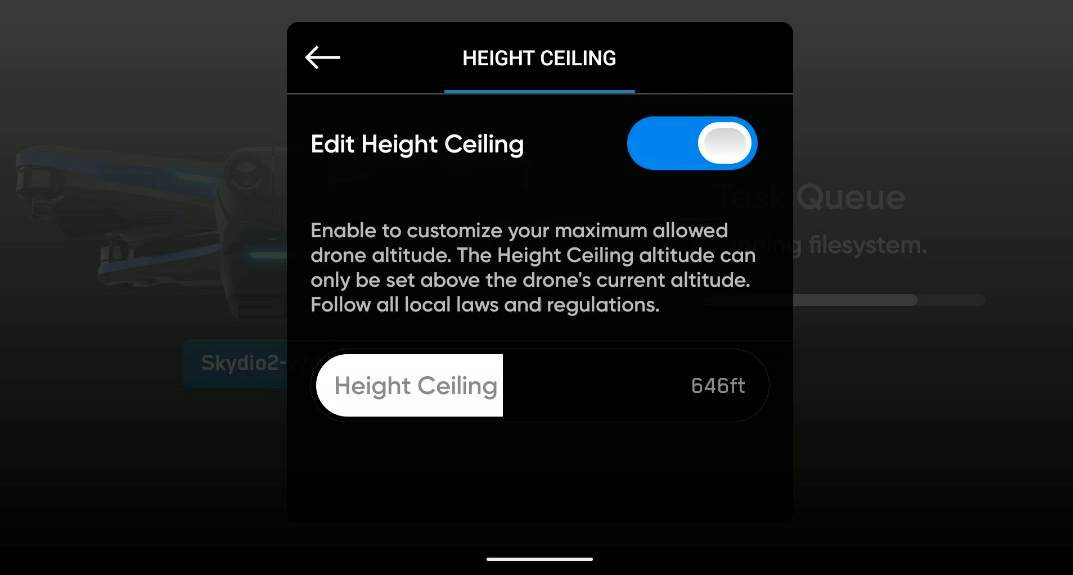 Updated Battery Indicator
Updating your Skydio 2 app will prompt the display of the new battery level messaging overview to make it easy to understand how much battery you have available for flight, how much battery capacity is available for a return trip, and how much battery is required to land. You will be able to access the meaning of the battery level icons anytime on the FLY screen by selecting INFO > Battery Indicator.
Percentage and Countdown
Percentage - displays remaining battery charge
When battery capacity has less than two minutes of flight time available for landing the indicator will change to a countdown
When battery capacity is zero the indicator will change to an alert symbol and the drone will initiate a non-cancellable landing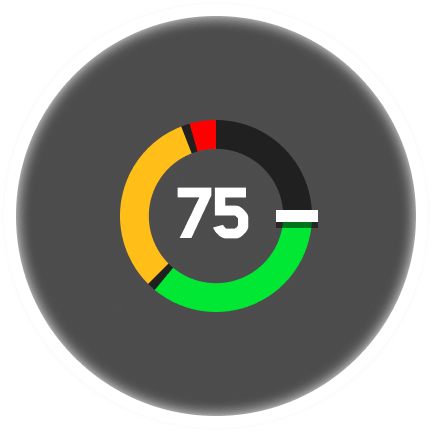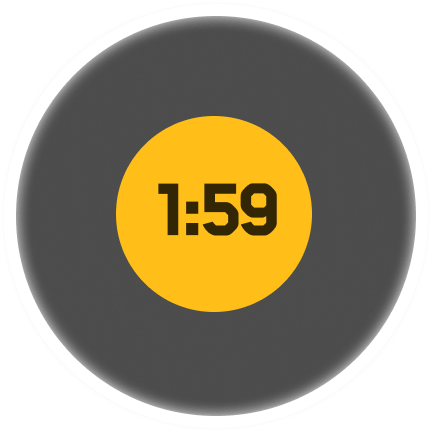 Return Behaviors
You now have the ability to customize the way Skydio 2 behaves after initiating a return:
Return Height - Allows you to set the height to which Skydio should ascend before returning. By default, the Return Height is set to 32 ft (9.7 m). Skydio 2 will ascend to that height before returning.
Height Behavior - Choose between Absolute and Relative:

Absolute means your drone will ascend to the specified Return Height above the launch point before returning.
Relative means your drone will ascend to the specified Return Height above the current position before returning.

Drone Looks - Skydio will either look toward or away from the return destination while returning.
Return Speed - Adjust the speed at which Skydio should fly when returning.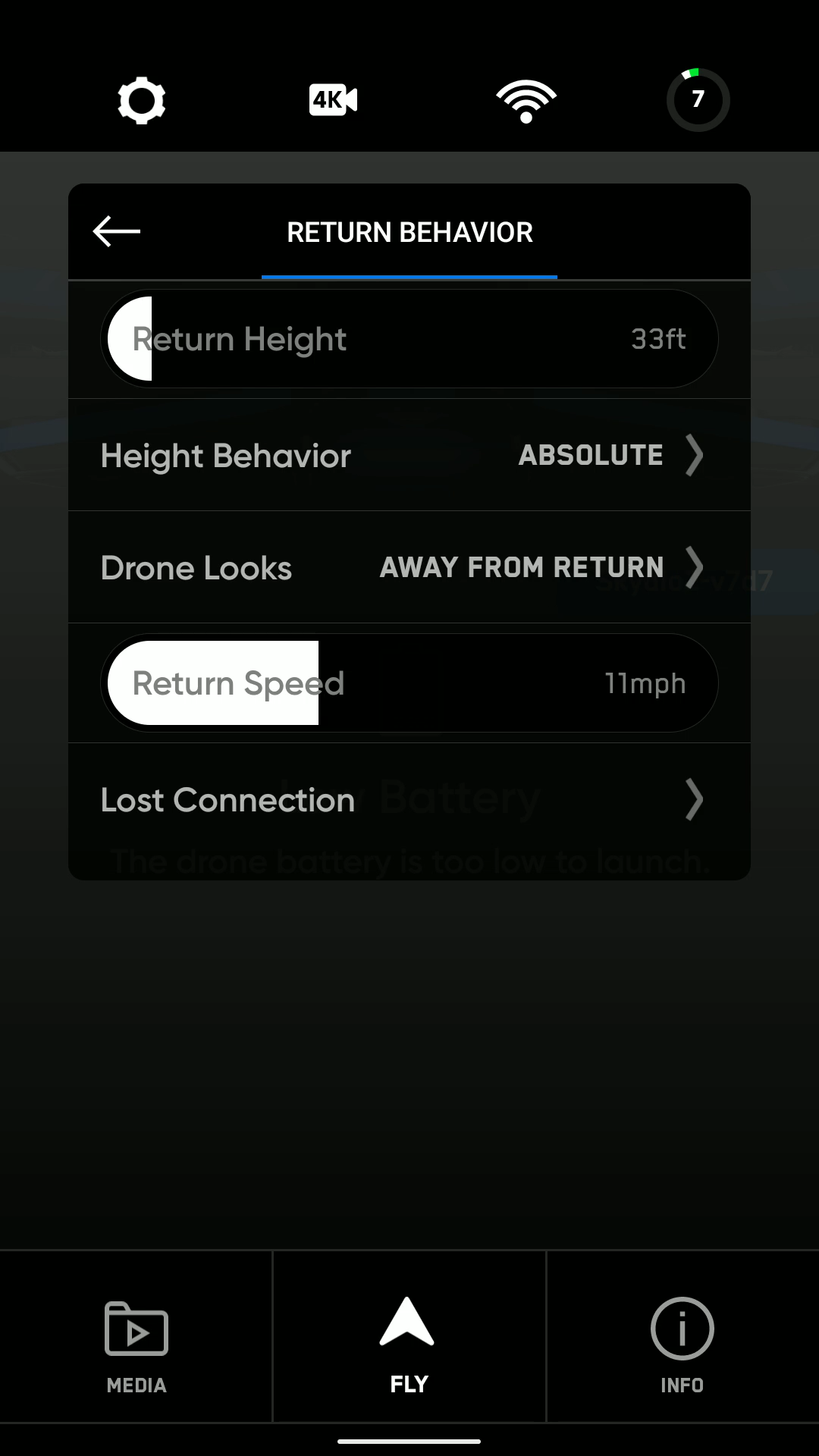 Lost Connection - Lets you choose how you want your drone to behave if the signal to your controlling device is lost:

Wait Before Return - Specify the amount of time that you want Skydio 2 to wait before it initiates a return flight, allowing time to reconnect.
Land Once Returned - When enabled, Skydio 2 will return, hover for a specified amount of time, and then land.
Wait Before Land - Specify the amount of time between 0 to 300 seconds (the default is 240 seconds) that you want Skydio 2 to wait before landing. This setting is only enabled when Land Once Return is toggled on.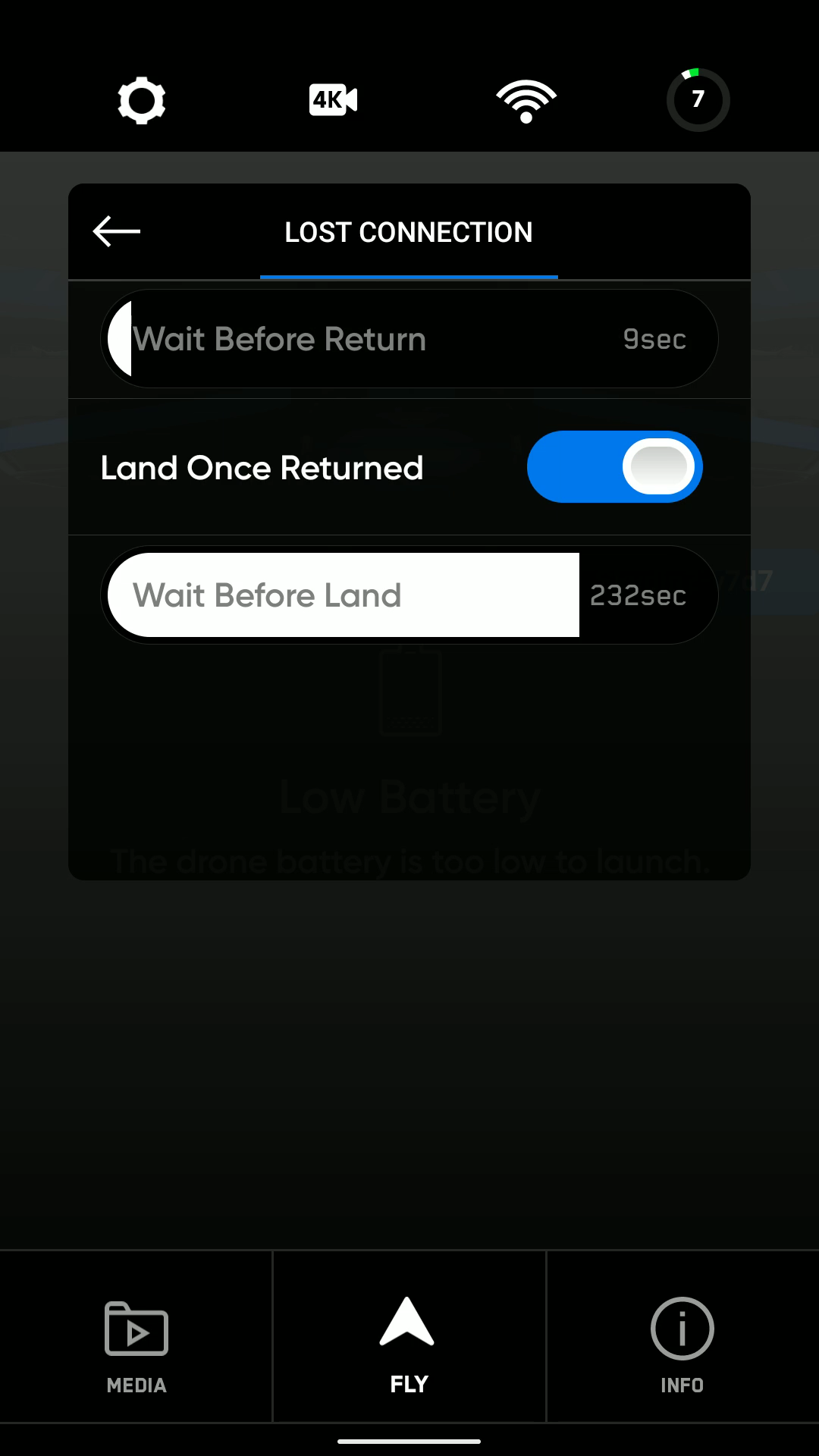 View Last Flights
The View Last Flights feature is designed to assist you with locating your drone in the event of a crash, emergency landing, or low battery landing in an unintended location. Gather more information by reviewing videos of the 10 most recent flights, even if your phone or controller is not connected to your drone.
Customizable WiFi Credentials
Change your Skydio 2 WiFi password or reset a changed password back to the factory-generated credentials.
Anti-Flicker
You now have the ability to adjust anti-flicker settings if you experience flickering in your video. This setting is for users located outside of North America, in countries where the frequency of the alternating current in household electrical outlets is 50 Hz.
60 Hz (default) - North America
50 Hz - Australia and New Zealand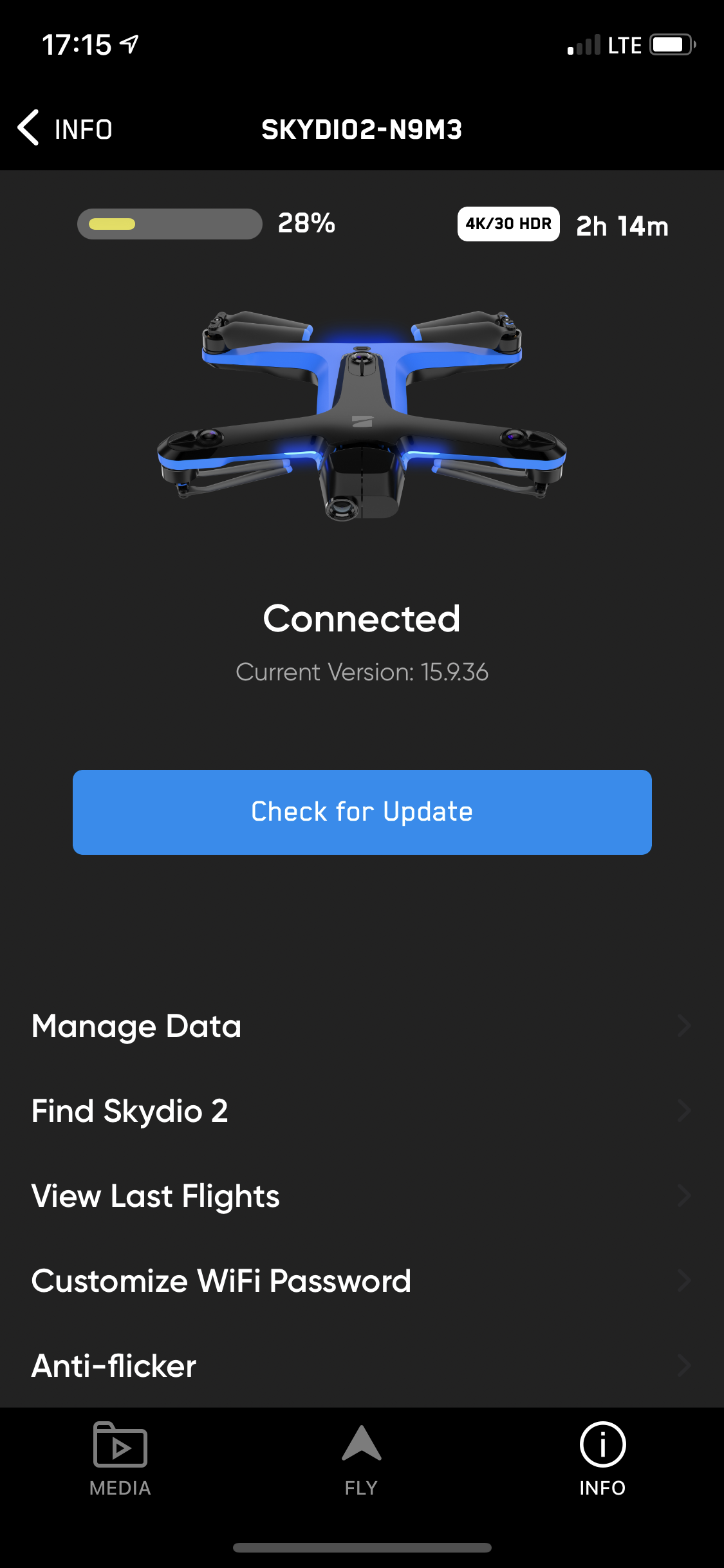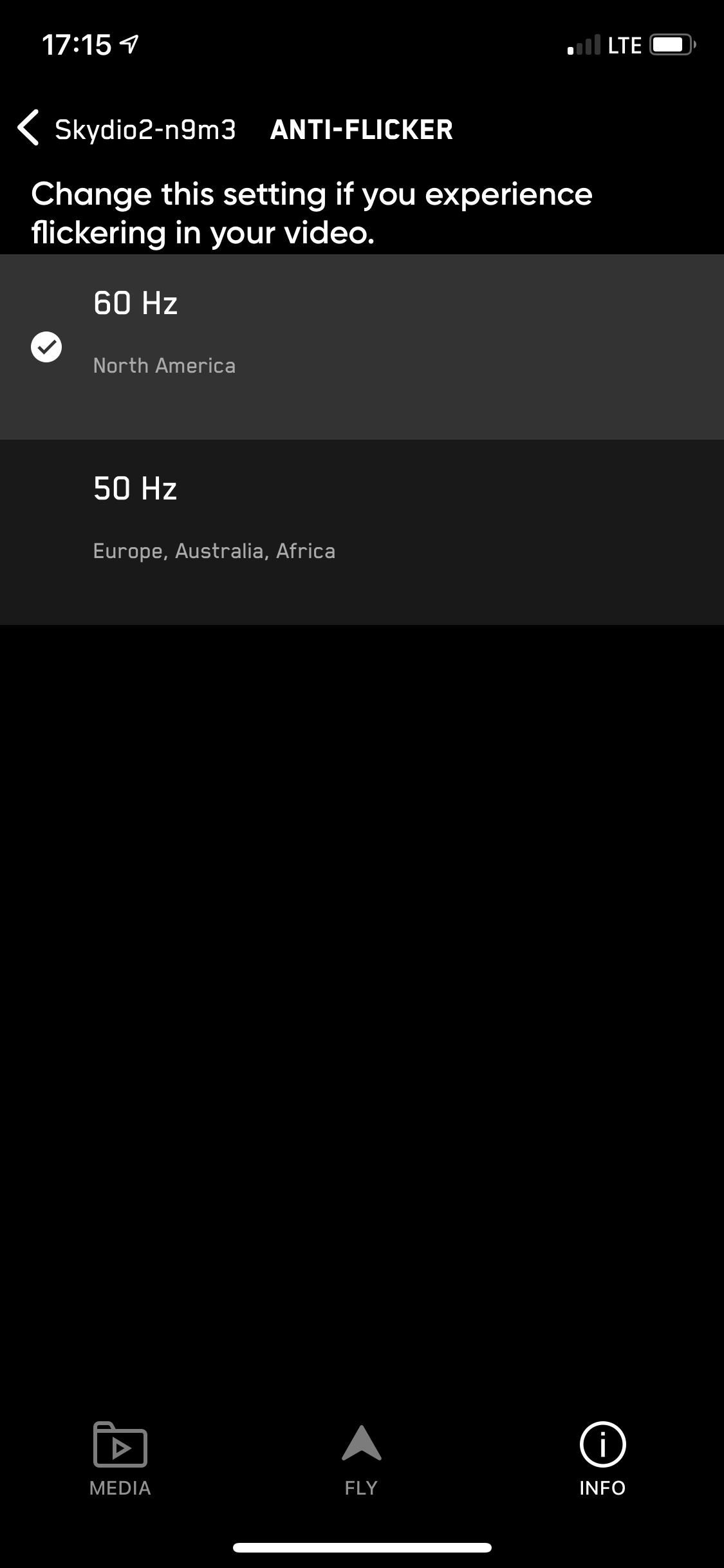 Enable Narrow Band
Enable Narrow Band to provide additional wireless range.
Extends controller range in open environments
When enabled, the drone will switch to narrow band whenever applicable
Video quality may suffer slightly
| | |
| --- | --- |
| | This setting is only available while connected to the controller or Beacon. |


New Safety Guide
After updating to 15.9 you will be prompted to review the new Safety Guide Agreement designed to help you avoid collisions and fly safely. Visual reminders will be accessible anytime by navigating to INFO > SUPPORT > Safety Guide. The updated Safety Guide Agreement provides information that will make your flying experience more enjoyable.
How to avoid collisions
Best environments for flight
How to avoid injury
How to be compliant with regulations
Manual Flight Skill
Fly freely using the new Manual Mode Flight Skill. Switch into Manual Mode by selecting your current skill then select General > Manual Mode.
Explore More
Explore related articles for additional information:
How is your Skydio 2 controlled?
Understanding Skydio 2 Return Behaviors
If you have questions or need additional support—feel free to reach out! Skydio Support
© 2021 Skydio, Inc. All rights reserved A0097
Was this article helpful?