Using the Skydio R1 app
Published: Updated:
We designed the Skydio R1 app to make controlling and using R1 to be as easy as using the camera app on your phone. Here's a look at the app and its controls:
The Videos tab & clip creation
On this tab, you'll find all of your R1 flight previews. Tap on any flight thumbnail image to watch a lightweight, low-resolution video of that flight and access the clip creation tools and more details about the flight (distance of flight, top speed, and file size on R1). While connected to R1 via WiFi, you can also edit and create clips, as well as generate still photos from any frame in your video. Note that clip creation & stills capture both require a WiFi connection to your R1, but viewing the preview videos do not, so you can watch your previous flights even when R1 is powered down.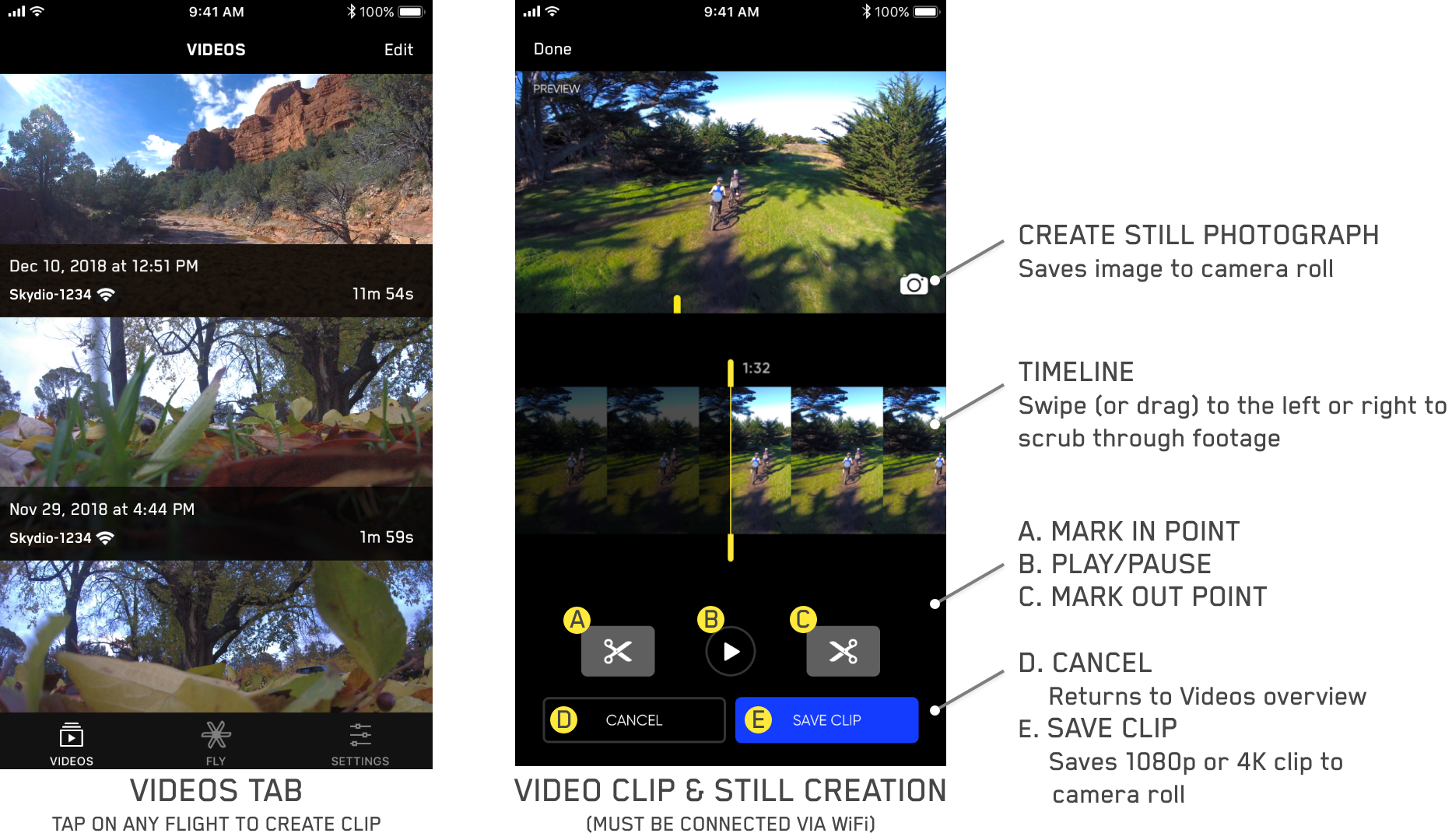 Note that videos can be viewed in either horizontal (landscape) or vertical (portrait) orientations on your phone. To learn more about clip creation, check out our article How to create & share video clips.
You can also manage your media from the Videos tab. Any flight on the Videos tab can be deleted from either R1, your phone, or both - just tap Edit, then select the flight(s) you'd like to delete and then tap the trashcan icon. You'll receive a confirmation message. You can perform this step when disconnected, but it will only delete the flight preview file from your phone. After you next connect to your R1 with your phone, that flight will also be deleted on R1. Check out this article for more info.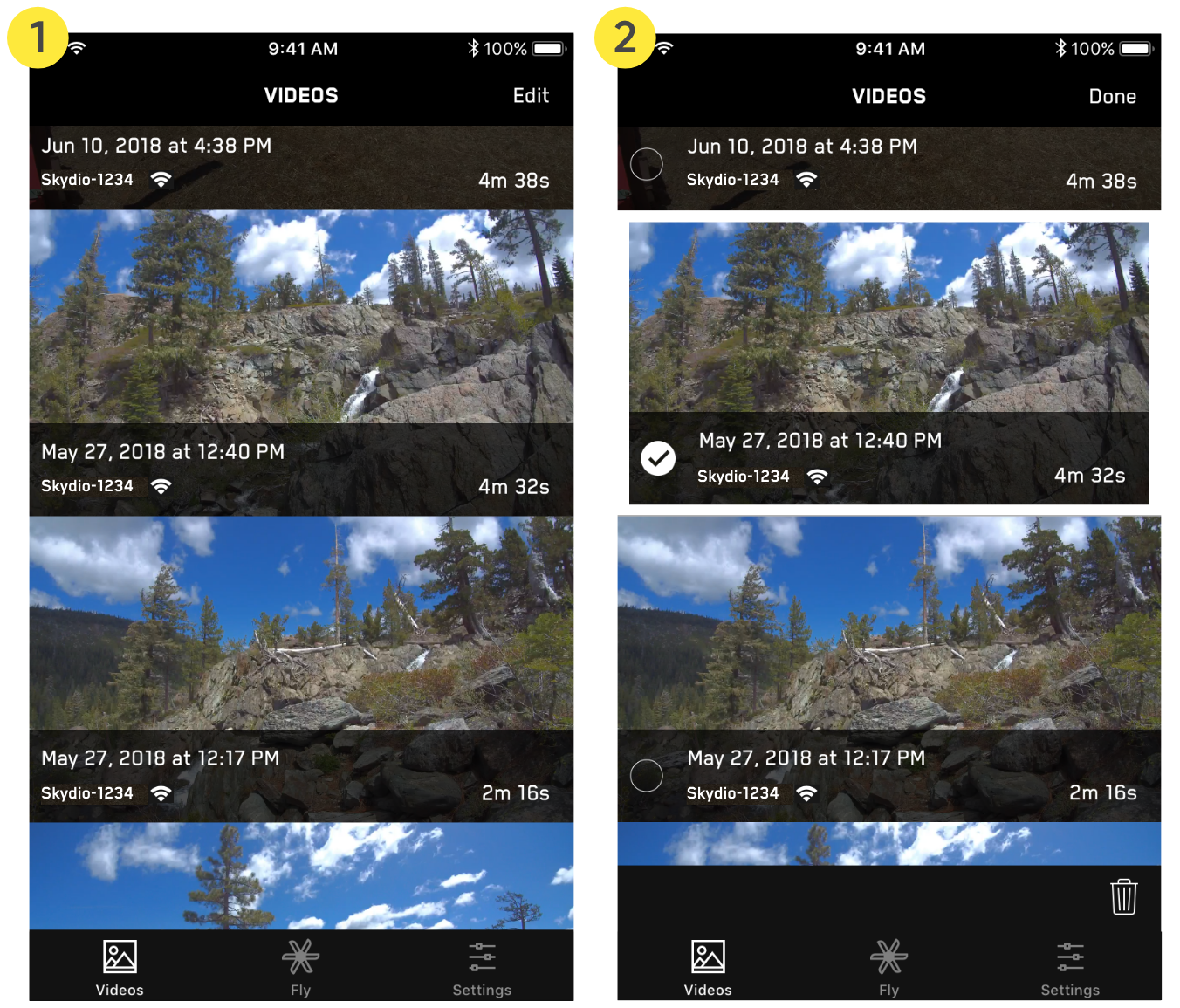 Important: When connected to your R1 via WiFi, deleting a video in this manner will permanently delete that flight. To learn more about managing your media, see our article How do I access and manage my R1 footage?
The Fly tab
On this tab, you'll find all of R1's flight controls. You must be connected to your R1's WiFi network to access the controls on this tab.
| | |
| --- | --- |
| When connected via WiFi, launching R1 is as simple as swiping up: | |
| When in the air, R1 looks for subjects to track. Selecting a subject puts R1 into Follow mode by default on first flight (or uses whichever skill you had last selected): | |
| At any time while in Follow or other skill modes, you can adjust your shot using the controls: | |
| You can even stop following a subject and manually navigate using the stick control while retaining full obstacle avoidance: | |
The controls and functions will vary slightly depending on the chosen skill. Here is a summary of the controls while in Follow mode (note that these controls and functions are identical in many other modes):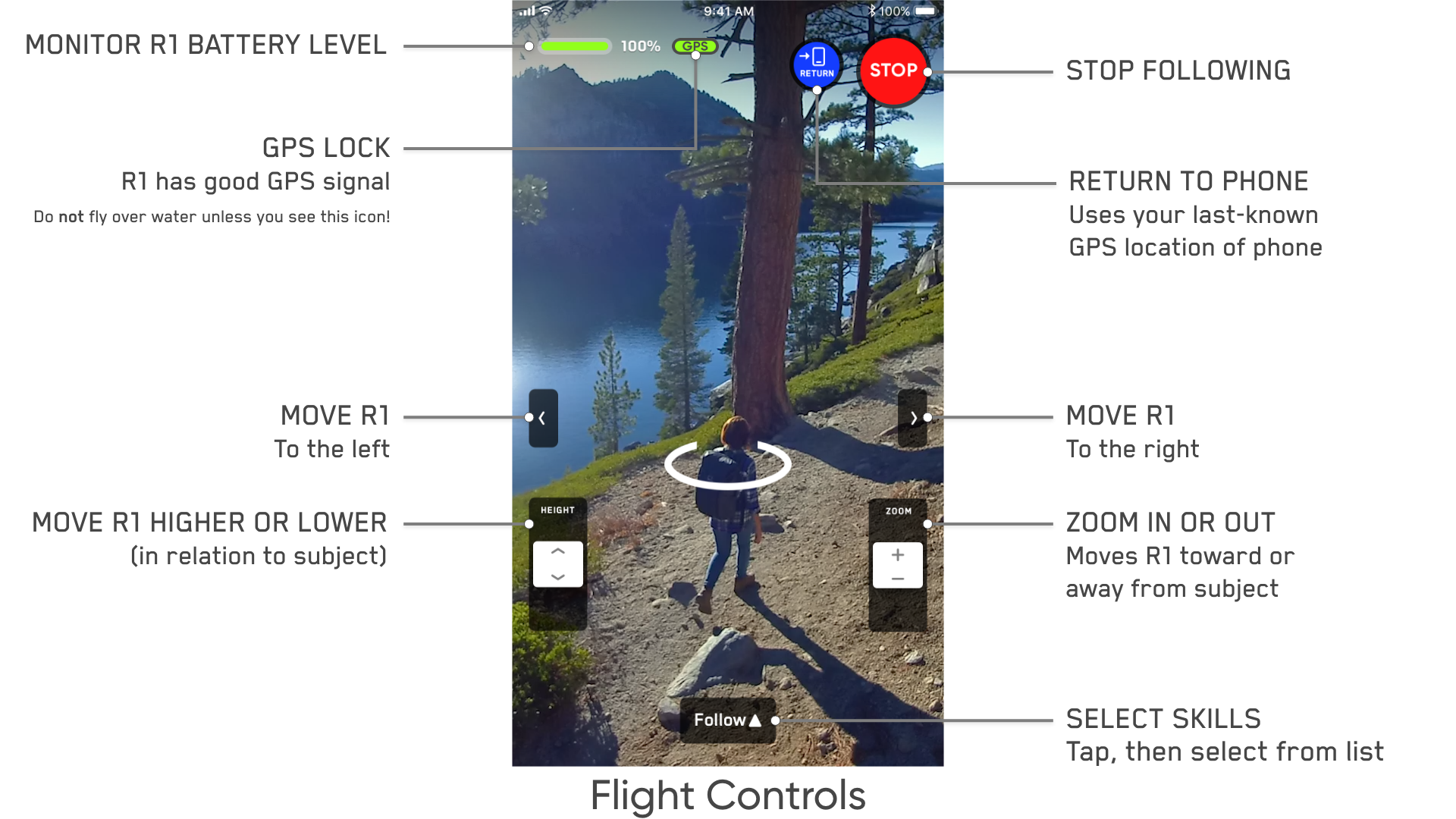 The Settings tab
On this tab, you can update your R1, adjust your control and video capture preferences, view support materials, and more: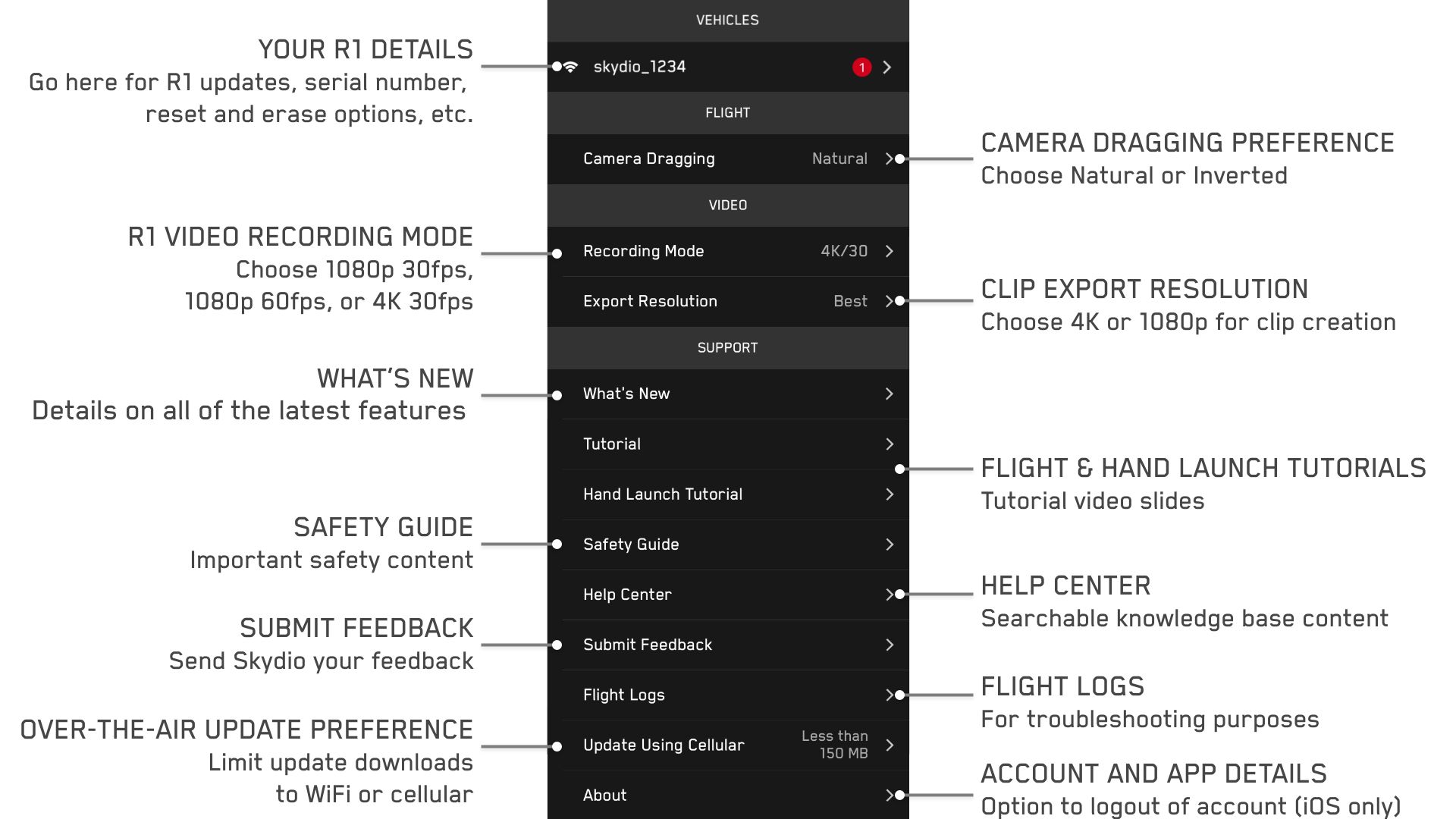 A few notes on the Settings tab:
On Android devices, you'll find an additional option to toggle audio recording on or off when flying.
On Android devices, there is no in-app option to log out of your Skydio account. To log out on Android devices, you must navigate to your device system settings and manually clear the app data, which will log you out of the app: Storage > Apps > Skydio > Clear Data.
Clearing the app data (Android) or logging out of the app (iOS) will reset the app back to its default state as if you had just installed it.
Check out our related articles for more information.
Was this article helpful?