Getting started with Skydio Cloud
Published: Updated:
Getting started with Skydio Cloud requires configuration settings such as creating a profile, adding users, claiming your Skydio vehicles, and connecting to wireless networks. You will need to configure your Skydio Cloud before you can manage your fleet or sync your media.
[info] To purchase Skydio Cloud contact a Skydio Sales Representative [/info]
Log in cloud.skydio.com
enter your email address

enter the verification code sent to your email address
Add profile
Step 1 - Select Settings
Step 2 - Select General
add the name of your organization

upload a logo - replace the Skydio logo in the upper left corner

Data Capture - control GPS & Telemetry automatically transmitted
[note] If Data Capture is toggled off the flight path and other telemetry data will not display on the flight screen [/note]
Add users
Step 1 - Select Settings
Step 2 - Select Users
Step 3 - Select Invite a Member OR import a file (CSV or text file)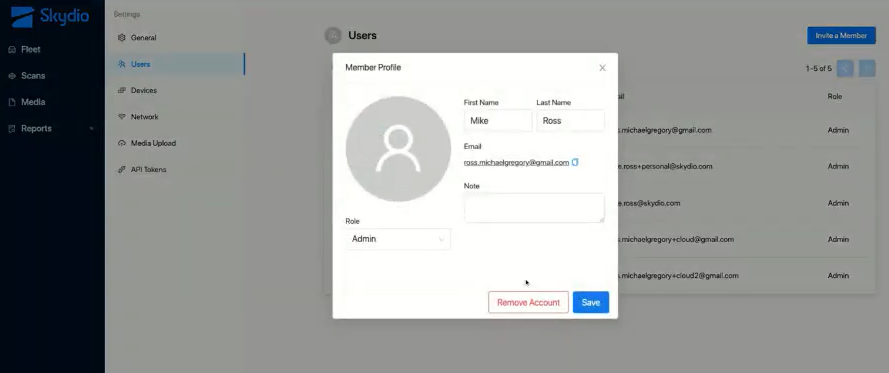 For more detailed information, visit How to add users to Skydio Cloud.
Add devices
Vehicles are not automatically associated with an organization, you will need to claim the devices that you want in your fleet:
Step 1 - Select Settings
Step 2 - Select Devices
Step 3 - Select Claim Device
Step 4 - Enter vehicle WiFi (eg Skydio2: - xxxx) or battery serial number
For more detailed information and instructions, visit: How to manage devices in Skydio Cloud
[note] You cannot claim a vehicle associated with another organization. You cannot delete a vehicle. If you receive this error message or need to delete a vehicle contact Skydio Customer Support [/note]
Assign licenses
[info] License assignment will initially be available to select customers, with widespread availability planned for a future date. Skydio will reach out to your organization if you receive the update. [/info]
Skydio License Management is available for a limited number of administrators to use with your Skydio drones. As the administrator, you can assign Skydio Autonomy Enterprise and 3D Scan to each of your drones, allowing for precision control of your Skydio fleet. For detailed instructions, visit: How to assign Skydio advanced software licenses.
Add wireless networks
Step 1 - Select Settings
Step 2 - Select Network
Step 3 - Select Add New Network
Step 4 - Input SSID the name of your wireless network
Skydio 2 is compatible with both 2.4 GHz and 5 GHz networks
Skydio X2 and Skydio 2+ are only compatible with 5 GHz networks
Step 5 - Input the password
you can modify the SSID but not the password
Step 6 - Select Add
repeat step 3 to add additional wireless networks allowing your Skydio drones to leverage multiple networks for connectivity
Step 7 - Organize the priority networks
networks are ordered by priority with the top connecting first
drag the network box to reorder
Additional wireless network requirements may be necessary to enable Media Sync uploads of images, video, and scan data. Please see How to Add a Network on Skydio Cloud and How to Use Media Sync on Skydio Cloud for more detailed information.  
Access API Tokens
Developer access to Skydio Cloud through API integration visit: Skydio API documentation.
generate a new API Token

access the API documentation
Explore More
Explore related articles for additional information
How to add a network to use Skydio Cloud Media Sync
How to assign Skydio advanced software licenses
Skydio, Inc. A0062
Was this article helpful?