Troubleshooting Skydio Cloud Media Sync
Published: Updated:
Have you purchased Media Sync?
Skydio Media Sync requires an additional license. To purchase Skydio Cloud, Media Sync contact a Skydio Sales Representative
Have you set up your Skydio Cloud Account?
You will need to configure your Skydio Cloud account before using Media Sync. See Getting Started with Skydio Cloud. Any media captured prior to configuring your Skydio Cloud will not sync.
Have you synced your drone to Skydio Cloud?
Step 1 - Attach the Battery to the drone
Step 2 - Power on the drone
Step 3 - Sign in to the controlling device using your Skydio Cloud organization registered user name and password.
Step 4 - Ensure the controlling device is connected to a wireless network

Step 5 - Sync your Skydio Cloud features

Select INFO
Select your drone
Select Cloud Settings
Select Download features from Cloud to sync from Skydio Cloud to your device
Select Sync Settings to Drone to sync Cloud settings to your drone

You may also force a SYNC

Select the INFO menu
Select your organization under Account
Select SYNC

You will only need to complete this step one time.

Step 6 - Connect to the drone

The mobile application will send network credentials when connected. At this point, the drone can connect to the Skydio Cloud using the configured networks. This process only needs to be done one time per drone.
[note text="Ensure that the media that you are trying to upload was captured after the configuration steps were completed—footage from before this point will not upload to the cloud."]
Have you connected to a wireless network?
Select Settings >Network >Add New Network
input SSID - the name of your wireless network
input the password - you can modify the SSID but not the password. If the password is incorrect you will need to delete the network and add it again.
For more information and detailed instructions, see: How to Add a Network
[caution text="Skydio X2 and Skydio 2+ must be connected to a 5GHz network to sync media (U-NII-1 and U-NII-3 bands)."]
Media Sync Error Indicator
When initiating a Media Sync a yellow flashing light indicates an unsuccessful connection to saved network in Skydio Cloud. An error message will display on your controlling device to help with troubleshooting an unsuccessful connection
No Network Found:

an issue occurred while connecting to your network

Authentication Failure:

an issue occurred while signing in to your network

Connection Timed Out:

your drone was unable to connect to Skydio Cloud

Is the vehicle claimed in Skydio Cloud?
View your vehicles on Skydio Cloud in Settings > Devices > Vehicles
Is the vehicle connected to power?
Uploading/syncing your media will not take place unless the vehicle is connected to power.
Have you selected the media you want to upload?
Select what is automatically uploaded when the vehicle has internet connectivity. Select Settings >Media Upload >3D Scan Data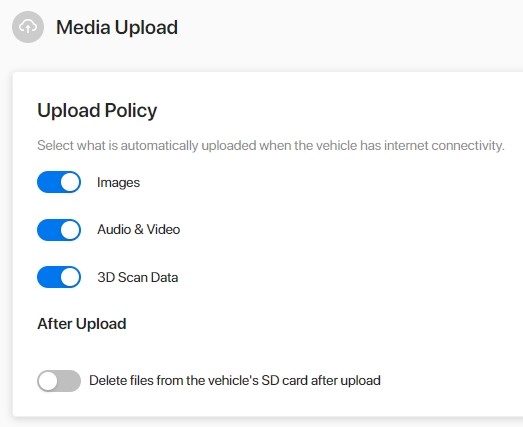 Is your Internet upload speed at least 3 Mbps?
Upload speed refers to how quickly your device can send data to another device on the internet. Uploading photos or videos to Skydio Cloud will use your upstream bandwidth. An Internet upload speed of at least 3 Mbps is considered by the FCC to be high-speed Internet. However, the larger the files (long videos and multiple photos), the longer it will take for your media to sync.
Did you remove the SD card?
Your media will not sync to Skydio Cloud if you remove the media memory card, alter the file names, or change the file order.
Does Fleet Manager status display media uploading?
Fleet Manager will display a status bar next to your drone when your media is syncing and alert you when your Media Sync is complete.
Did you remove the SD card?
Your media will not sync to Skydio Cloud if you remove the media memory card, alter the file names, or change the file order.
Persistent Uploading State
When the SD media card has over 5000 files, it will cause Media Sync to indefinitely go into an uploading state and never complete (though it should upload the vast majority of files). Delete old files from the SD media card.
What upload speeds can I expect?
Skydio Media Sync transfer speeds have been increased up to 60 Mbps over WiFi and up to 500 Mbps (megabits/sec)* or more over Ethernet.**
Example upload times: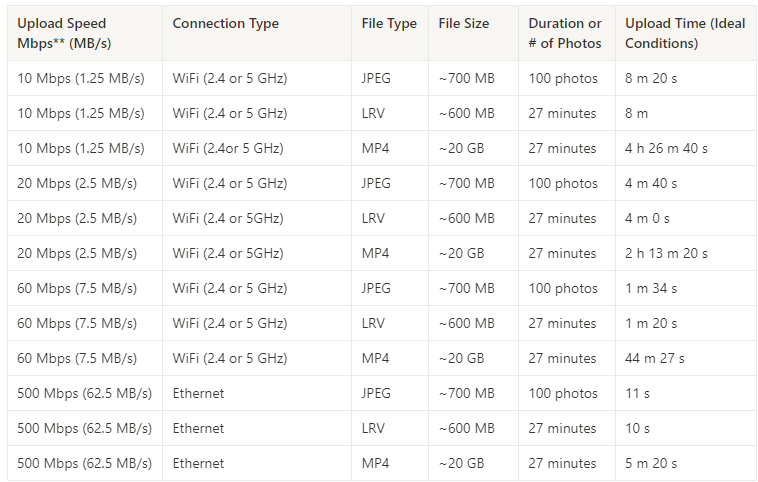 *Note that megabits per second (Mbps) is the standard unit of measure for network speed but is different than the standard unit of measure for file size, which is megabytes (MB). To calculate your expected speed in megabytes per second (MB/s) you can divide your Mbps speed by 8. E.g., 80 Mbps = 10 MB/s (megabytes/sec). To calculate expected upload times for a given file, you can divide the file's size in MB and divide it by your network speed in MB/s.
**Media Sync performance is limited by your overall network performance and several other factors, including network congestion and data throttling. Performance over WiFi is further impacted by router strength, distance to the router, wireless noise, and other wireless factors.
Skydio, Inc. A0070
Was this article helpful?