Skydio 2/2+ Flight Screen and Device Settings
Published: Updated:
The Flight Screen

Battery Indicator

Battery indicator messaging displays how much battery is available for flight, how much battery capacity available for a return trip, and how much battery is required to land.

Percentage - displays battery charge remaining
Green - indicates battery capacity for nominal flight before the time limit required to safely return and land
Yellow - indicates how much battery capacity is required to safely return
Red - indicates how much battery capacity is required to land
Countdown - when battery capacity has less than two-minutes of flight time available for landing the indicator will change to a countdown
Alert symbol - when battery capacity is too low to fly the indicator will change to an alert symbol and the drone will initiate a non-cancellable landing

Signal Strength Indicator

Displays the current strength of the signal connection to Skydio while in flight. As the signal strength decreases, users may experience a lower quality video feed or a delay in their controls.

 

[note] Signal strength and maximum control range may be affected when flying in areas with electromagnetic interference. [/note]
Camera / Video Settings
Provides access to the camera settings and allows you to change between video and photo recording mode. Skydio can capture photos or video but not both at the same time. You may change your camera settings at any time before or during flight.
Video Capture Settings

Resolution
Frame rate
HDR On/Off*
Auto / Manual Recording Video Codec**
White Balance
Shutter Speed
ISO Exposure

Photo Capture Settings

Photo Interval***

Off / 1s or 2s**** / 5s / 10s

HDR On/Off JPG / JPG+DNG*****
White Balance
Shutter Speed
Exposure
* HDR is not supported in all video resolutions and frame rates.
** Skydio can record video in either AVC (H.264) or HEVC (H.265). Different mobile devices and personal computers have different compatibilities with these encoding standards. Be sure to choose the encoding standard that is best suited to your desired workflow.
*** When Photo Interval is enabled Skydio will continuously capture photos at the specified time interval until the setting is disabled or the flight ends.
**** The fastest interval photo setting when capturing in raw DNG is two seconds. Users may capture a photo every one second when capturing in JPG mode.
***** DNG photos are not displayed in the media tab of the Skydio 2 app and are retrieved directly from the microSD card.
Device Settings Menu

Gives access to in-flight settings for the drone as well as control settings for the phone and Controller (when connected).

 
Height Limits

Allows you to adjust settings for the Height Floor and Height Ceiling. 

 

The Height Floor is enabled by default and maintains at least 8 ft (2.4 m) of space above a tracked subject while in any autonomous follow skill, creating a buffer between Skydio and any moving objects, such as people, pets, or vehicles.

 

When the Height Ceiling is enabled, this allows you to adjust the maximum allowed flight ceiling height between 30 ft (10 m) and 1500 ft (457 m).  

 

Read Understanding the Skydio 2 Height Floor and Understanding the Height Ceiling on Skydio 2 for more detailed information.

 

Return Behavior

Allows you to customize the way Skydio behaves after initiating a return:

Return Height
Height Behavior
Drone Looks
Return Speed
Lost Connection

Read Understanding Skydio 2 Return Behaviors for more detailed information about each of these settings. 

 

Enable Narrow Band

Enable Narrow Band to provide additional wireless range.

Extends controller range in open environments
When enabled, the drone will switch to narrow band whenever applicable
Video quality may suffer slightly 

[note] This setting is only available while connected to the controller or Beacon. [/note]
App Controls

Slide (default) - Single stick with pitch and roll with yaw on separate buttons
Steering - Single stick with pitch and yaw with roll on separate buttons
Dual Sticks - Traditional Mode 2 dual-stick controls

Dual Sticks Mode

Sets the control style for the Dual Sticks app control setting. Allows you to choose between Mode 1, Mode 2 (default), and Mode 3 style controls

On Screen Display

Toggle Telemetry on to display data during flight:

Current speed
Height above launch
Range from the launch point
Camera angle (gimbal pitch)
Gimbal Speed

Controls how quickly the camera gimbal pitches up and down

Flight Speed

Switch between default and custom sensitivity settings for the roll, pitch, yaw and throttle inputs
Default settings are fixed and cannot be changed
Custom settings may be adjusted

Flight Mode

Switch between Mode 1, Mode 2 (default), and Mode 3 style flight controls

 
Mode 1

Mode 2

Mode 3

[note] Controller settings are only available when your Controller is connected to your drone. [/note] 
Flight Controls

The on-screen flight controls are the primary method for controlling your drone during both autonomous and manual flight.

Manual flight controls are the same in all skills and may be customized by the user in the "Phone" tab of the device menu while autonomous controls are unique for each skill.

Stop/Land Button

While Skydio is flying autonomously, such as following a subject or flying to a waypoint, you may tap the red stop button to cancel the current action and place the drone into manual control mode.

While the Skydio 2 is in manual control mode the land button is available. The user may press and hold the land button for 3 seconds to command the drone to land at its current location.

While your drone is in manual control mode, the land button is available. The user may press and hold the land button for 3 seconds to command the drone to land at its current location.
Map View

Select the map icon to enter the Map View. Your location, Skydio, and Launch Point location are all indicated on the map. To exit the Map View, tap the map icon again.

Fly to Waypoint

Users may fly to a specific GPS location by long-pressing on the map and selecting "Fly Here Now" from the menu. Skydio 2 will warn the user if the selected destination is far away or outside the vehicle's expected battery range.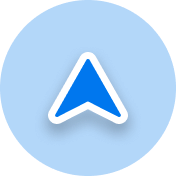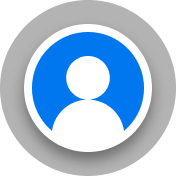 Skydio       Controller/Phone     Home Point       Launch Point        Beacon
Subject Indicator

The blue & white '+' icon indicates a person or vehicle that Skydio is capable of tracking. Tapping the indicator will command your drone to enter autonomous flight mode with the selected object as the tracking subject.

Subject available for tracking

Subject being actively tracked
Tips for best tracking performance:
Skydio can only track people and vehicles, not pets or other animals.
The subject you wish to track must be visible in the camera view in order to become available for tracking.
If the indicator is not appearing for the subject you wish to track, try moving the Skydio 2 closer and ensure they are framed in the center of the camera view.
Tracking works best when Skydio is 16-22ft (5-7m) away from the subject.
If you are in an open area with no other moving objects nearby, turning off the Height Floor setting may improve tracking performance. Read Understanding the Skydio 2 Height Floor for more details.
Return to Home

Gives you the ability to have Skydio automatically return to either the launch location or your current location.

Create a Home Point (or move the existing Home Point) by long-pressing on the map and selecting Set Home Point from the menu

Home points are optional, set for each flight and not saved between flights.

Skydio will automatically return to a set Home Point in the event of a loss of communication.

Tapping on a Home Point on the map gives you the option to fly the drone to that location immediately or remove it from the map.

[note] Skydio must have a GPS signal at some point during the flight to create a Home Point. The better and more sustained the GPS signal, the more accurate Skydio flight will be when returning to that Home Point. If Skydio loses GPS or the GPS signal becomes weak, the drone will do its best to estimate and return to the Home Point position. [/note]
Recording Indicator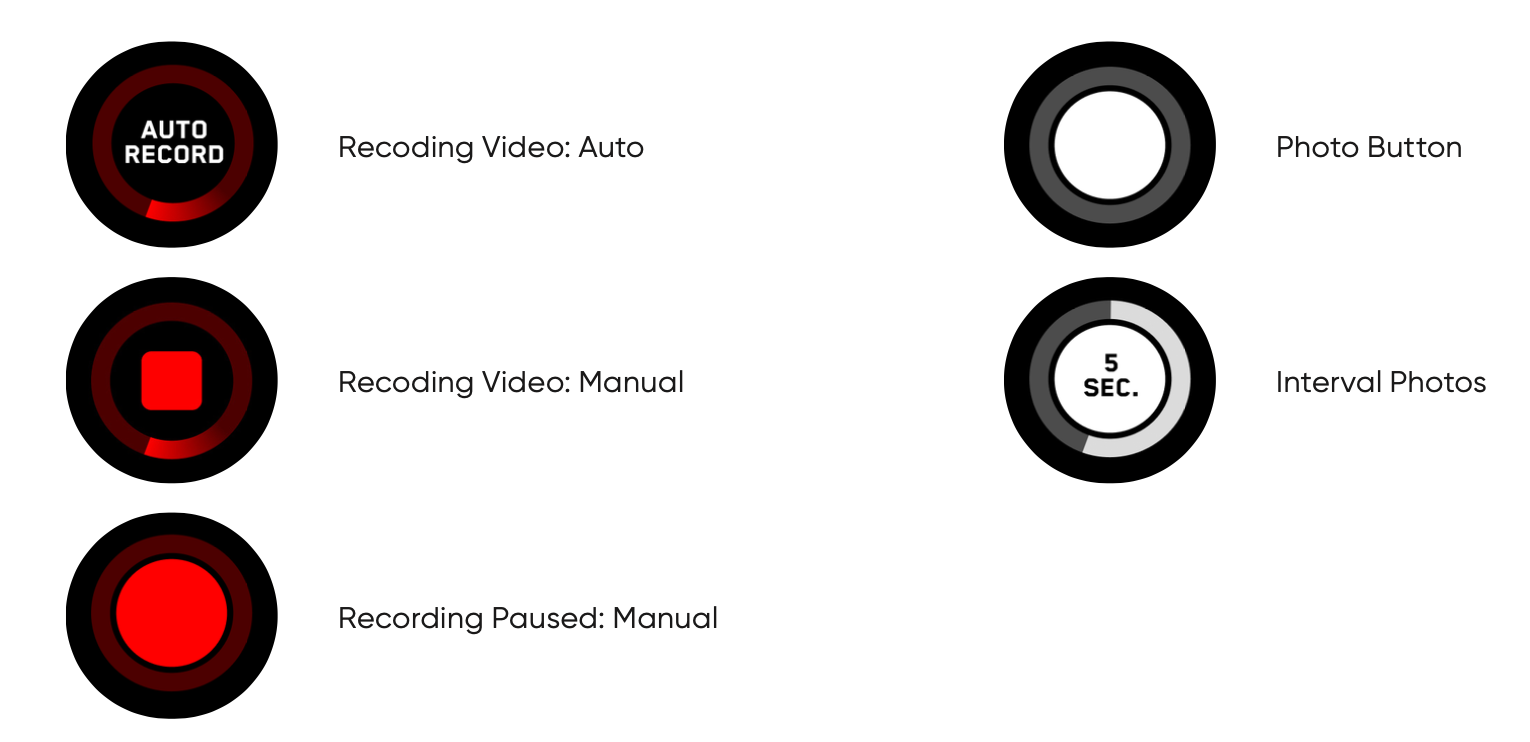 Skill Settings

Each skill may have its own custom settings that only affect that skill while it is selected. Users may tap the skill settings button to customize each cinematic skill's behavior to suit their needs.
Skills Menu
The Skills Menu gives access to Skydio 2's library of cinematic skills. Each skill is a different cinematic style of filming and capturing a subject.
Explore More
Explore related articles for additional information:
Access Skydio 2 manuals and guides
Viewing and saving Skydio 2 media
Using Skills within the Skydio 2 app
 Skydio, Inc. A0126
Was this article helpful?